Podcast: Download (Duration: 1:16:07 — 61.7MB)
Subscribe: Google Podcasts | Spotify | TuneIn | RSS | More
Write what you love – and don't feel guilty about it. Market in a way that you love – and don't feel guilty about it. Publishing wide is a way of life – and only getting better. Plus, what if the future is audio first? This is my round-up from the NINC conference 2018.
In the intro, I mention the launch of Savant, an AI tool for categories, by PublishDrive at Digital Book World. Plus, I won Publishing Commentator of the Year 2018 🙂 You can find a load of interesting tweets about the conference on Twitter #DBW18. I mention this tweet by @kpeters1 about YA sales and Pottermore.
Plus, get this fantastic limited-time NaNoWriMo Storybundle for pay-what-you-want price. Includes craft, mindset, health and business books: www.storybundle.com/nano
Today's show is sponsored by all the listeners supporting the podcast on Patreon! THANK YOU so much for your support. Your contribution keeps me creating the show every week as I head towards 10 years of podcasting. It helps me on a psychological level as well as a financial one. You can support the show at www.Patreon.com/thecreativepenn with just a couple of dollars per month and you get access to exclusive monthly Q&As, as well as a backlist of private audio content.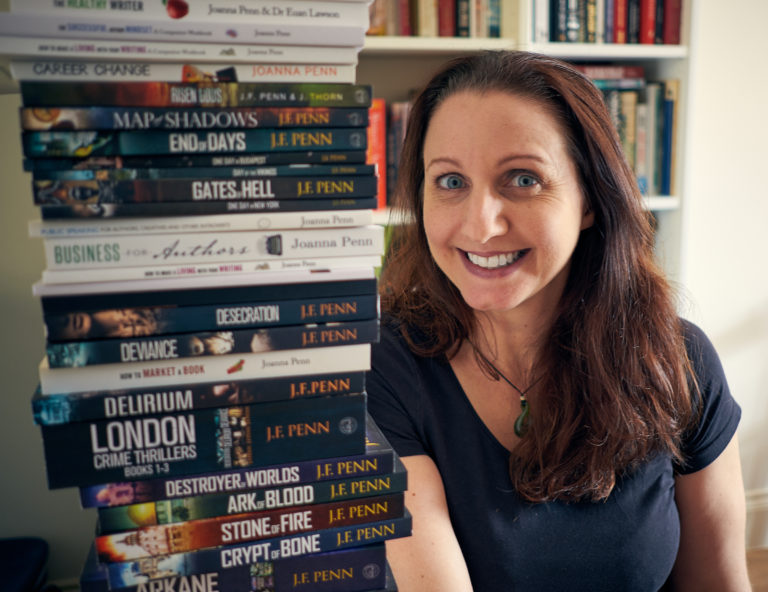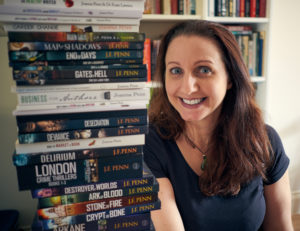 Joanna Penn is an award-nominated, New York Times and USA Today bestselling author of thrillers under J.F.Penn and also writes non-fiction for authors. She's an award-winning creative entrepreneur, podcaster, and YouTuber.
Her site, TheCreativePenn.com has been voted in the Top 100 sites for writers by Writer's Digest. She's just been announced as Publishing Commentator of the Year at Digital Book World 2018!
My round-up from NINC 2018
I've just returned from Novelists Inc (NINC) conference at St Pete's Beach in Florida, a fantastic conference for professional writers. The type of place where you realise that everyone in the room is multi-published over many years, some with 50+ books, and many making multi-six figures in terms of income.
I was thrilled to be amongst writers who challenged me every day and I had meetings with vendors in the publishing market who are doing brilliant things to help authors.
It was well worth going for the conference speakers and the networking opportunities and I hope to return another year. I spoke on content marketing for fiction, and how to grow your book sales internationally.
If you are in the area, make sure you visit the world-class Dali Museum in St Petersburg which has some stunning paintings.
I have pages of notes from the event, but here are my overarching thoughts from the conference. 
(1) Write what you love – and don't feel guilty about it
Dr Jennifer Barnes taught two sessions which had the biggest impact on me. The first was on the Id List, and the other on the psychology of book titles. Jennifer is writing a book on these topics, and I hope to have her on the podcast to talk about them at some point, so this is just an overview to whet your appetite. [She also taught this topic at RWA so I'm not sharing private NINC stuff!]
"Fiction is a pleasure technology," so our stories should be full of what we like as readers.
There are hard-wired pleasures we have as humans, which include touch, beauty, wealth, status and power, competition, gossip and danger. Books that are full of these things will be popular and book titles (and covers) that indicate these aspects will sell. Examples include Game of Thrones (competition & power), Pretty Little Liars (beauty and gossip), and Crazy Rich Asians (wealth).
There are also idiosyncratic pleasures that we each find irresistible in books. For example, I pick up books that feature Catholic priests/monks, religious objects and relics, ancient manuscripts, angels and demons, thunderstorms, bones, and catacombs. These also feature heavily in my own writing.
Jennifer suggested that you start by identifying what is irresistible for you as a reader (your Id list, based on Freud's pleasure principle) and make an actual list you can refer back to.
Stop trying to overthink your writing and stop trying to be original every time. Stop editing out things you love because you might have "done it before." Readers love the same tropes and want to repeat the same experience.
To improve the pleasure experience of your books, consciously add pleasures into your books and make sure you're hitting all the right pleasure buttons for your readers. That includes hardwired pleasures AND idiosyncratic pleasures from your personal list.
When titling a book, consider the same principles to come up with a better title. Plus, you can use your Id list in your marketing.
I put this into practice immediately for End of Days with an ad that identified some of my id list:
"If you like ancient sarcophagi, buried tombs, serpents and snakes, global adventure and fast-paced conspiracy thrillers, you might enjoy End of Days. "
And I have started my list of things that make me click buy now so I can be sure to include them in future books.
(2) Market in a way that you love – and don't feel guilty about it
I presented twice at NINC and my first talk was on Content Marketing for Long-Term Fiction Sales.
This was quite a different talk to the number of sessions on paid ads that occurred over the conference. Much of the feedback I received from attendees was their sheer relief at my emphasis on doing what you love and incorporating marketing into your creative life, rather than forcing yourself to do things you don't like.
The Content Marketing Institute defines content marketing as "creating and distributing valuable, relevant, and consistent content to attract and retain a clearly defined audience – and ultimately, to drive profitable customer action."
I went into lots of detail on how you can do this, but basically, I just don't have the personality type to be good and consistent at ads, and many of you out there feel the same 🙂
And that's OK!
I don't really do spreadsheets, the idea of split testing makes me keel over with boredom, plus, I don't want to keep paying money to build someone else's brand over the long term. Maybe you feel that way too?!
Yes, I do ads for my launches and webinars but only for short-term spike marketing, whereas the bulk of my multi-six-figure business is built on content marketing through text (articles), audio (podcast), video (YouTube), and image marketing (photos).
C
reating content can be inherently rewarding, as well as useful and inspirational for others.
It is not just 'marketing,' it is also creating something new in the world that stands alone.
You can build a body of work through content marketing, and many creators change lives through their articles/videos/podcasts without the consumer ever buying a book by that person.
You can build another asset (i.e. a website) through the use of articles, video, or audio, whereas paid ads only give you a short-term spike in sales and income through book sales and you're mainly building someone else's brand.
The idea of the independent author is a creative who is free from the demands of being tied to one particular publisher, and so a business based around content marketing can give you other streams of income and help you sell books globally and through wide distribution.
Plus, I believe that the only way to stand out in this ever-growing market is to build a quality brand that readers are dedicated to for the long term.
You cannot compete on speed of publishing, as author collectives are now doing a book a day (yes, seriously!).
You cannot compete on price, as Kindle Unlimited is free.
You can only compete on being you because no one else can be you.
Your brand is dependent on author voice, how readers resonate with your stories and the other things you can bring them, as discussed in this interview with Kristine Kathryn Rusch on author branding.
(3) Publishing wide is a way of life – and it's only getting better
Publishing wide (i.e. not exclusive to Amazon through KDP Select) is an attitude, an ethos, even a way of life.
When I said this at NINC, some people reminded me that you only have to be in Select for 90 days at a time and they can easily come out when they want.
But it's more than that, because most who go in, don't come out again until things begin to drop. Then they discover it's harder to sell wide and tend to go back in again.
The fact is that it takes consistent time over years to build an audience wide. You're never going to leave KU and get the same return in the following month.
But publishing wide gives you stability and income from multiple streams, diversifying your platform and making sure that you will not be wiped out by one company changing the rules.
If you choose wide, you have to want to be in the publishing business for the long-term and take your books seriously as intellectual property assets, not just immediate cash flow. 
You have to care about your books reaching people outside the Amazon eco-system and you have to want more than just digital sales in the USA.
You have to think bigger than the 90-day cliff and today's ranking.
I understand why authors choose KDP Select, and for many, it IS about immediate cash flow, hence why a change in perspective is needed to appreciate wide.
I've been an advocate for wide distribution from the beginning, partly because of my international family and lifestyle, and partly because I'm committed to independence.
I was laid off in the Global Financial Crisis of 2008, so I know how it feels to have one company take away my income stream. I swore I would never do that again. I love Amazon, but at this point, they make up only 11% of my total company income.
I've dabbled in KU with Penny Appleton as I had no bandwidth for other marketing, but I'm pulling those books wide in a few weeks time. I still have some books in ACX exclusive for audio tied in with royalty share for the 7 year period, but this NINC definitely helped me turn the corner with being all in for the wide model with audio as well as ebook and print.
If you're publishing wide or considering it, then things are getting better every year, and several exciting things came out of NINC.
Draft2Digital expands into print and collaborative worlds

Draft2Digital continue to deliver new tools for authors. Kevin Tumlinson did a fantastic presentation which included tips for audio, reaching libraries, Books2Read and why you should sort out your Universal Book Links to enable wide marketing, Author Pages, and Book Tabs.
The penny dropped for me on Universal Book Links which I am in the process of getting sorted. Basically, they enable you to use one link in your advertising and readers are linked through to whichever store they prefer, and yes, you can add in your affiliate links 🙂 For an example, go to https://books2read.com/valley and you'll see all the links for various stores on that page.
You don't have to publish on Draft2Digital to use the Universal Book Links, so you can go make them at Books2Read.com.
D2D also announced Shared Universe functionality, also offered by BundleRabbit, which enables authors to open up their worlds to other writers and includes automatic payment splitting, the bane of the collaborator's life! This also fills the gap left by the demise of Kindle Worlds.
D2D also announced they are enabling Print, which is now in beta but will offer print distribution primarily in the US in 2019. This will integrate into their formatting and layout templates that a lot of authors use right now.
I find it interesting that there was such excitement at the development of more print options. I've been talking about this on the podcast for a while now, but it does seem like more and more indie authors are moving into print as a serious part of their business.
I talked to lots of people at NINC about the Large Print option and about doing Amazon Ads for print (as discussed with children's author Karen Inglis on the podcast recently), and of course, Ingram Spark do a great job of global distribution.
Will we see market share being carved away from traditional publishing in the print sphere as it has done for ebooks? I think so, especially if B&N continues to lose focus. 
Findaway Voices enable authors to set audio prices and sell direct
D2D also has a partnership with Findaway Voices who enable authors to publish with no exclusivity to 170+ markets worldwide.
Findaway Voices talked about their expansion into helping authors distribute audio after 25 years in the audio market. They distribute to Apple, Google, and other large markets. Library borrowing for audiobooks is also growing.
They now have the Authors Direct app to help you sell audio direct and they allow you to control your pricing (unlike Audible which has no creator control of sale price).
There was an interesting discussion on the use of short fiction as both marketing and another (small) income stream. I start voice coaching next week as I move into more audio narration myself. As someone who has built up an audience through voice for almost 10 years for my non-fiction, it's time to look at doing it for my stories as well. More on audio in the final section below.
Kobo expansion into Walmart and audio
Kobo has had a big week, with Michael Tamblyn unveiling the new Kobo Forma device at Digital Book World, and also revealing details of the integration with Walmart, which now includes digital gift cards next to audiobooks, and apparently some print books in stores as well. See the picture right that Mark Leslie Lefebvre took in Florida while we were at NINC.
I talked to the fantastic Christine Monroe from Kobo Writing Life at NINC and left enthused about the possibilities for audiobooks on Kobo as well as distribution to libraries through OverDrive (owned by Rakuten, who also own Kobo).
Here's my audiobook, The Successful Author Mindset,  on Kobo, with more to come.
iBooks relaunches as Apple Books and integrates audio
I am beyond excited about this! Apple has doubled down on books and now integrated the audiobooks with ebooks on one app. All the details at www.apple.com/apple-books and yes, if you are wide, it's time to update your branding.
Three experienced authors presented on behalf of Apple at NINC – Diane Capri, Cheryl Bradshaw, Heather Sunseri. It was great to hear some tips on Apple promotions – including long pre-orders (I have one on Valley of Dry Bones right now), how free first in series still works on Apple, and how targeted ads on Apple can work well e.g. BookBub PPC.
In conclusion, publishing wide is more exciting than ever before, with new opportunities appearing every month.
Yes, it takes time to grow an audience on different platforms and in different countries, but personally, I think it's well worth it to build a long-term business as an author that is not dependent on one platform.
(4) What if the future is audio first?
Whenever I travel for conferences and self-development stuff rather than book research, I tend to read a lot and try to think about the bigger industry picture. I take a step back and ponder the future. I listen to podcasts and pick up magazines, and whenever I am in the USA, I look around at the way people are behaving.
The idea of an audio-first future comes from a few things:
Audio continues to be the fastest growing segment in publishing, as reported by the Publishers Association. Podcast Insights reports that 44% of the US population has listened to a podcast (with 22% of listening done in the car), and that podcast listeners are loyal, affluent and educated – and presumably, book buyers.
The rise of Storytel and how Sweden is digital first, and potentially audio first. Read this article in The New Publishing Standard, a must read blog if you're interested in global publishing.
The growth of streaming internet speeds into developing markets. As Singularity Hub reports, there will be 4 billion new minds online by 2025. Many of those people will be mobile-first and wanting to learn. With English the global business language, there will be more demand for content in audio and digital formats.
Apple Watch with Air Pods. I didn't understand the Apple Watch until this trip, and I certainly didn't understand the Air Pods. Let's face it. If you want to listen to something, you just plug your headset into your phone, right?! But there were so many people wearing the Apple Watch in Florida and I noticed the behaviour of people using it for audio, running on the beach without heavy equipment, and the way wearables are becoming more natural.
Plus, you can now get audiobooks on your watch [Engadget]. Seamless audio on the move. Magic!
The rise and rise of voice technologies:
Google Home and now Google Play audiobooks

Apple Books and Home Pod, as well as the Apple watch and integration of audio on the new app and IOS

Alexa enabled everything [ZDNet] from Amazon, Audible expansion and domination in some markets (while Storytel aggressively goes after the rest).
Development of voice tech like Amazon Polly and voice-synth AI. In my mind, there is no doubt that voice-synth AIs will take a share of the narrator market at some point, with a split between AI-read, cheap audio and 'human-powered,' premium audio.
This was underscored by the demonstration by Google Cloud at Digital Book World when voice technology was used to sample and then buy an audiobook purely with voice. [Thanks @katetravers for sharing!]
This is hugely exciting because for so many years we have been saying that there's no point doing PR for book sales (e.g. radio and TV) because people won't remember you long enough to walk into a bookstore and buy your book.
But consider the future with voice.
A commuter is sitting in their car listening to an interview, likes your ideas, asks their favorite voice assistant to buy the book and then starts listening immediately. Awesome.
I also had an interesting chat with Will Dages from Findaway Voices about 'quality' of narration. Both of us listen to audiobooks and podcasts at 1.5x speed.
We are listening to get info into our brains, we want to learn. We are not there for the 'dramatic experience' of an audiobook. This is most likely for non-fiction primarily, but once you start listening to things on 1.5x, it's very hard to go back! I now play fiction on 1.2x.
I have a friend who is blind and he consumes audio at a speed beyond which I can understand, but it's how the data gets into his brain. That type of consumption and processing is all about training.
Listening is reading, it's just another medium for words to get into your brain. We are only really at the beginning of where this might go.
All this means that I am doubling down on audio.
I'm starting voice coaching so I can start narrating my own books, and I'm starting another podcast in 2019 that will relate to my fiction (and possibly yours, too!). Details to be announced once I have that sorted.
I want control of my audiobook rights and my audio brand because I know how powerful voice is. My podcast is the cornerstone of my non-fiction business, and if I can do the same for fiction, the next 10 years are incredibly exciting.
As ever, I am super-positive about the future for authors and for publishing as an industry. I also just won Publishing Commentator of the Year at Digital Book World 2018, so I guess that means the message is going down well!
This last picture is me going into exhausted introvert mode post-conference! 
Any questions or thoughts, please let me know in the comments. I'd love to know what you think of today's show!