Podcast: Download (Duration: 50:19 — 41.1MB)
Subscribe: Google Podcasts | Spotify | Stitcher | TuneIn | RSS | More
Another year turns! 2018 has been a big one for me as I reached 10 years of The Creative Penn.
Considering many new companies don't make it past 5 years, and many writers don't make it to full-time, I am pretty happy with overall progress – but as ever, there is always room for improvement.
In this article, I'll look at some of the bigger shifts for the indie publishing environment, and then review my 2018 goals (which I always post on 1 Jan), look at what I achieved, what I didn't quite hit, and lessons learned. You're welcome to leave your comments or thoughts on your own progress in the comments. Let's keep each other accountable!
In the introduction, I mention Amazon's Alexa crashing on Christmas Day [The Guardian], and how purchases through Alexa continue to grow [Venture Beat], even as the functionality available through Alexa continues to expand [Digital Trends]. Plus, for the first time in 20 years, copyrighted works will enter the public domain in the USA [The Smithsonian] and publishers are getting ready for re-releases, including The Prophet by Kahlil Gibran with an intro by Insta-poet sensation, Rupi Kaur. [New York Times]
Joanna Penn (yes, it's me on my own today!) is an award-nominated, New York Times and USA Today bestselling author of thrillers under J.F.Penn and also writes non-fiction for authors. She's also a podcaster and an award-winning creative entrepreneur. Her site, TheCreativePenn.com has been voted in the Top 100 sites for writers by Writer's Digest. Joanna was named Publishing Commentator of the Year at Digital Book World 2018.
[For more pics from my Christmas down under, check out www.instagram.com/jfpennauthor]
You can listen above or on iTunes or your favorite podcast app, read the notes and links below. Here are the highlights and full transcript below.
Show Notes
Changes in the indie publishing environment 2018 – including disruption to the status quo, technology and pay-to-play marketing
My books of the year – broaden your mind as you consider what's coming in the next 5 years
My 2018 creative goals – what I achieved and what I missed – and why
Changes in the indie publishing environment 2018
Before I get into how I did with my goals, here are my thoughts on some of the changes that impacted indie authors in the last year.
Disruption to the status quo
At the end of 2017, I felt that the indie business model had stabilized and that we had all the tools we need to do our writing, publishing, and marketing, but as ever, nothing stays the same and everything changes.
This year saw the end of Createspace as Amazon started to move print book setup into KDP Print. I spent 13 years implementing IT systems so I jumped into the move early to take advantage of the helpdesk before they were swamped. There was some initial pain, and some authors are still finding difficulties, but overall, it seems like a good move, especially with the consolidation in Amazon Marketing Services.
I now use KDP print alongside Ingram Spark for my print books, and have expanded into Large Print and Hardback editions in 2018.
There has been an increasing split between the KU Amazon exclusivity business model, and the wide publishing approach of multiple streams of income. Although there have been some big winners in KU, many authors have felt that the increasing scams, tech headaches, and dependence on one platform are no longer worth it.
The choice to 'go wide' has become more attractive in 2018 with Kobo Writing Life and Draft2Digital, in particular, expanding their offerings, as well as the emergence of PublishDrive as a new player focusing on Google Play and foreign markets that the others don't reach. Plus, audio options have expanded with Findaway Voices, and more exciting things on the horizon for 2019.
Marketing has always been necessary, but paid ads are now (almost) non-negotiable
It used to be the case that a new author could self-publish a book, put it up on Amazon and be assured of at least a few sales using free tools like KDP Select free days or countdown deals. Most authors used some form of paid marketing, but there were options for those with little to no budget.
But in mid-2018, things shifted as Amazon, the most egalitarian of publishing platforms, pretty much became a pay-to-play environment.
If you publish a book – whether it's self-published or traditionally published – it is unlikely to sell any copies because it literally can't be seen. You have to send traffic to it somehow – through your email list or someone else's (BookBub, Freebooksy, other services), paid ads, content marketing, podcasting, videos, social media or other means.
For more detail on the shift, check out The Economist on Amazon's advertising ambition, Russell Blake's article on the state of the indie nation, Mark Dawson's Amazon Ads Masterclass podcast, and my own podcast intro discussing the change (episode 403).
There's no point lamenting this shift. All businesses have marketing costs and although indie authors had free options that actually sold books for a while, it looks like that time is gone.
Personally, I am doubling down on Amazon ads in the short term, but also starting to build a new content site for my fiction. You can find out more in my mini-course, Content Marketing for Fiction, and I'll also mention it more on my 2019 goals article tomorrow.
This is part of a larger sense that what used to work doesn't work anymore – and that's just as true in traditional publishing, as Kristine Kathryn Rusch discusses in her article on disruption which covers the 'inevitable plateau of sales' in a disrupted market.
Disruption on a global scale
I've been through a personal shift this year as I have read books and listened to podcasts that have opened my eyes to different possibilities and a new sense of what might be coming for creatives. I am a futurist and the macro trends that are coming will transform our lives. As ever, I want to ride those waves and knowledge helps to position ourselves.
While the US and UK have been caught up with Trump and Brexit, while our news has been dominated with doom and gloom, there have been huge advances in technology and economic shifts that will impact our lives in the next 5 – 10 years.
These include the rise of China in terms of technology like 5G and AI, as well as their Belt and Road Initiative which is transforming developing economies. I mentioned the possible impact of China Literature after the London Book Fair, and also reported on the 30-second translation of an English book into Mandarin with 95% accuracy. So much is happening, and we may start to see more of an impact in 2019.
There is too much to get into here, but read these books (or listen to the audiobooks as I did) and prepare to open your mind:
My response to these books is to double down on investing in China and Silk Road countries through index funds, (this is not financial advice and I am not a financial advisor!), and I am moving up plans to go to China, particularly Shenzhen as I want to see what's going on for myself. I learn so much by being in an environment, e.g. when I was in San Francisco in 2017, I saw the meat-free and vegan trend coming and it's just starting to take hold in the UK now, especially with the possible impact on climate change.
I will, of course, be sharing what I learn with you over time.
In terms of a question for you to think about: What do you need to let go of in terms of your beliefs about publishing or how the world is? Does your opinion serve you or is it time to gain a new perspective? What do you need to learn about?
My goals 2018 – what I achieved and what I missed
The Creative Penn website and podcast
Another year of the blog and the podcast, and I am thrilled to say that I get emails and tweets every day that demonstrate I am still useful to the indie author community, even though there are so many more voices these days.
I did a big podcast and blog post for my 10 year anniversary in Dec 2018, so check that out for lots of lessons learned and tips for your own writing journey.
A huge THANKS to you if you have bought my books or my courses, or if you support the podcast on Patreon, or if you have clicked on my affiliate links, or shared the site with anyone. I really appreciate your part in keeping my creative business sustainable.
So, what did I say I would do – and did I do it?
I did revamp the website around Pathways. On the main Resources page, there are now 6 different landing pages so you can choose your own adventure through the material. These pages are also integrated into the segmented email list as below.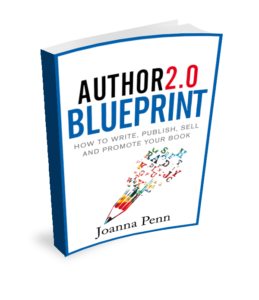 I also segmented my Author Blueprint email list, so if you sign up for the Blueprint now, you will get the downloads but then you are asked for what you are interested in, and sent the most useful material. Before I did that, everyone received the same autoresponder in the same sequence, regardless of what they were most interested in.
This was a major piece of work, but worthwhile, as new subscribers get more useful information more quickly.
I also did the full GDPR compliance work for my main websites. It was a short-term amount of pain for a good reason. I have always respected my email list but this codified respect into data protection procedures. Click here for a free workshop on GDPR if you haven't yet tackled it.
I revamped my YouTube channel – www.YouTube.com/thecreativepenn – and created a series of short videos covering the most common questions. The subscribers grew from 17,000 subscribers and over 1.2 million views at the beginning of the year to 26,377 subscribers and over 1.8 million views. People have watched my videos for a watch time total of nearly 33 years, which is crazy!
However, I really don't love video as a format, so I stopped doing those extra videos in order to focus on my core activities – writing and podcasting. I will continue to post the weekly podcast interviews and other occasional videos. You can find The Creative Penn here on YouTube.
I said I would do mini-courses on Teachable. I actually did another significant course: How to Write Non-Fiction, and one mini-course: Content Marketing for Fiction. You can find all my courses at www.TheCreativePenn.com/learn.
I like having craft courses and evergreen material that is useful to authors on an ongoing basis. I don't do spike launches, so these courses are more a slow-drip form of extra income. You know I'm all about the multiple streams 🙂
Non-fiction as Joanna Penn
I said I would write How to Write Non-Fiction, and I did. It's available in ebook, print, Large Print, hardback and also audiobook formats, as well as a Workbook edition and a multi-media course version.
It turned out to be a lot more intensive than I expected, but I really found it useful to my own processes, and from the reviews, it's useful for other writers too. I'm definitely proud of that one!
I said I would write How to Write a Novel, but although I have 90,000+ words in a Scrivener folder, it is too big a project for me to wrangle right now. There is a multi-media course version, How to Write a Novel, on Teachable, if you need help!
I also said I would write The Shadow Book (working title), but I have not been in the right space for that. I don't know when I will be, to be honest. I think it might take years to bubble up, but it will be all the richer for waiting.
I said I would do more non-fiction audiobooks – both The Healthy Writer and How to Write Non-Fiction are available in audio, along with most of my other non-fiction. Click here for all my audiobooks.
Thrillers and Dark Fantasy as J.F.Penn
In the first few months of 2018, I focused on adapting Map of Shadows to a feature film screenplay. I did a fantastic course at NFTS in London, and they told me that it would cost over $100 million to make because it is such a 'big' movie. All my books have a huge scope!
I loved writing the scripts but I also learned – as with writing books – that the script aspect is only one part of screenwriting, and I don't have the time to commit to learning a new industry and selling my scripts.
So I put that aside to concentrate on novels for now.
I wrote and published ARKANE thriller #10, Valley of Dry Bones, which ties together San Francisco, New Orleans and Spain in a race against time to find an ancient relic that can raise the dead.
I said I would write two other novels, but I haven't written any more this year, although I have started my research for the next Mapwalker dark fantasy novel. I definitely want to write more in 2019. More on that in tomorrow's post on 2019 goals!
I did say that I was putting fiction audio on hold for 2018, but in the second half of the year, I learned of upcoming changes to the market in 2019, that has rekindled my enthusiasm for fiction audio, as covered in my NINC round-up. Valley of Dry Bones will be out in early 2019, narrated by Veronica Giguere, who does all my ARKANE thrillers.
I've been having voice coaching in order to narrate my own fiction which has been incredible for my own personal development and my writing. I'll be starting with my short story collection, A Thousand Fiendish Angels in early 2019.
Sweet romance as Penny Appleton
Last year, my Mum and I co-wrote 3 books as Penny Appleton, and this year decided to part ways amicably and pursue writing separately, rather than continue co-writing.
I'm thrilled that I was able to help her start a new writing career in her 70s, but the genre is not my passion, so she will continue writing sweet romance and women's fiction, and I will go back to my dark side!
You can read/listen/watch a round-up of our experience co-writing together here.
The Healthy Writer
I did a lot of big walks in the first half of 2017, but doubled down on yoga in the second half of the year, rather than continuing with the ultra-marathons. I'm happy with how the year has gone health-wise, and I'm so glad that Dr Euan Lawson suggested that we do The Healthy Writer, as it has continued to help a lot of people this year!
OK, that's me done! How did you do with your 2018 goals?
Let's celebrate together, or share lessons learned. Please join the conversation and leave a comment below. Be honest now – we're all friends here!