As the year draws to an end, it's important to look back and celebrate what we achieved creatively, as well as understanding why we didn't hit the mark on some of our goals.
Life happens, things change and so do we.
2016 has been a roller-coaster year politically, but we can all find solace and expression in continuing to create.
Here are my goals from 1 Jan 2016. Here's how I did on achieving them.
(1) Become a healthy author
I achieved what I set out to do – completing the 100km Race to the Stones in June.
I also used dictation to complete the first draft of Destroyer of Worlds. I spent a lot of the warmer months doing 10+ mile walks along the canal in Bath as well as some much longer adventures, including a week in the Alpujarras in Spain. It was awesome … but I have to admit to backsliding as the colder months took over, plus traveling in Oct/Nov and subsequently being sick has taken its toll.
But that's the truth of health and fitness, as well as creativity and writing. You can't just 'get fit' once and then be done with it. You can't just do one writing sprint and be finished.
You have to make the practice an integral part of your life.
I have started a regular yoga practice and intend to get back to walking more when the weather gets lighter and warmer. Plus, we're spending February in New Zealand and Australia so will do some walking then. We've also booked a walking holiday for August, a much more challenging one than I've tackled before so that will drive me back to fitness.
I will also be getting back to dictation in 2017 and will utilize what I learned earlier this year so it won't be such a difficult change. But I'm happy to say that I don't get RSI anymore – thanks to a lot of the healthier habits – so it's not such an urgent shift.
(2) Create more, become a better writer and give J.F.Penn more time
I did complete Destroyer of Worlds, ARKANE thriller book 8 and also End of Days, book 9 (on pre-order for 31 Jan, 2017).
I wrote a commissioned short story for an anthology (out end 2017). I also wrote The Successful Author Mindset, which has resonated with many authors and is definitely my most personal non-fiction book.
I focused on developing my fiction craft more by doing a number of writing classes by Dean Wesley Smith and Kristine Kathryn Rusch.
I didn't do the 'Edinburgh' book or the Budapest screenplay, and considering I managed 6 books in 2015, it was less of a production year than anticipated.I intend to remedy that in 2017.
I did try several times to write a screenplay adaptation, but I've decided to focus on my core strengths rather than try to learn another craft. Collaboration is the way forward! So I am now working with a screenwriter who is adapting my London Psychic trilogy, and I'd love to work with other screenwriters for adaptation of my other works.
I didn't sell any other foreign rights, but I have been getting my rights back from translators and my German publisher, so this will be a focus for 2017.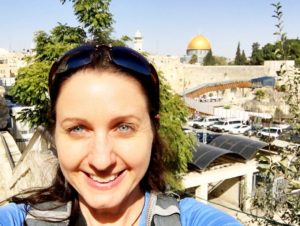 (3) Travel more and speak internationally
It's definitely been a big year for travel, including several trips to the US, as well as Spain and Israel. (Check out the video here for Israel.)
It's been fantastic … But that travel has also made me sick this year and so I am going to be much more careful with my speaking schedule for 2017. I want to create more and the downtime with sickness drives me nuts!
Of course, I say that but I am already booking flights for my next trips … 🙂 #traveljunkie
(4) Provide a 'career path' for authors on The Creative Penn
I've continued to blog and podcast, reaching episode 300 of The Creative Podcast, which is a landmark I never thought of hitting when I started the show in 2009!
I didn't redesign this site but I did produce How to Write a Novel, a multimedia course that I am super proud of. After 12 novels, I was ready to share what I'd learned along the way and provide a roadmap for those of you who are working on your first novel, or have written one or two and aren't seeing the results you'd like. If you'd like to know more, check out the free 7 Steps to Write Your Novel article and video here.
Unexpected 2016 events …
I absolutely believe in writing down goals and plans, but you also have to leave room for spontaneity and shifts into things you didn't expect. There have been two things that have been unexpected about 2016 for me.
(a) Hitting my 10 year goals … and then discovering my goals for the next 10!
I hit my income and many of my long-term creative goals this year which was fantastic … but also left me strangely bereft. Probably because I am a goal-focused personality and I struggle without an aim for my energy. My friend Orna laughs at me, as I even set goals for yoga … apparently that's not the point 🙂
But between April (when I hit those goals) and November, I felt aimless. I love what I do every day, but continuing to write books/blog/podcast for the next 10 years with no next step or higher purpose felt a little empty.
So I went to the US in October with an open mind, and a stated desire to find the next step. I spoke at Digital Commerce Summit and sat alongside creative entrepreneurs running 7 and 8 figure businesses. Then I went to the Oregon Coast Masterclass and during an intensive week with Dean and Kris, I produced my next 10 year business plan. EXCITING!!!
I'll be sharing the details of that in the coming year as the plans unfold, but huge things are coming that will benefit the indie community as well as giving me more creative freedom.
(b) Working successfully with my husband
My husband, Jonathan, left his job in September 2015 to join The Creative Penn and it's been an interesting time learning to work together 🙂
There are many adjustments to this entrepreneurial life, as I noted in my first year as an author-entrepreneur. One of them is finding your own rhythm and community outside of the boundaries of a traditional 'job' and office life. So he had to adjust to that and we also moved to Bath, in the west of England, leaving London for (yet another) reinvention.
We are equal partners in our life, so it was also hard to adjust to the business when I am so used to being the 'boss' of The Creative Penn. But we have managed 15 months so far and are even happier than before so the experiment has been well worth it. We also more than replaced his salary, so financially, it's been worth it too.
Our roles have shifted in the last few months and Jonathan will be taking on a whole new area in 2017. Again, I will have to talk about that once we are clearer on the details, but it is a new direction for the business.
Income goal
I set a goal to double my income in 2016 – and I am just shy of reaching that. I'll take that as a win 🙂 I just checked my QuickBooks and my income growth over the last 5 years (in GBP) is below.
I wanted to share this as encouragement because I know how long things take. I started writing in 2006 and I don't have accounts for that year as I was still in the day job and writing on the side. I started this site in 2008 and left my job in Sept 2011 to go full-time so these are the full calendar years since then.
If you work backwards, you can see how little I made in the first few years 2006 – 2011.
It's been a 10 year journey and this year I broke through the income level I'd achieved in my last career.
I hope this is an encouragement for you in your author entrepreneur business. You could also compare it to income reports by other online entrepreneurs, like John Lee Dumas and Pat Flynn. I believe transparency is useful, especially for authors in a business that has so much smoke and mirrors.
If you're wondering how I achieved this growth, I'll be reporting more detail when I do my tax year accounting in May/June. Here's my report for May 2015 – April 2016 if you want to see the breakdown for book income specifically.
The main thing I would emphasize is creating multiple streams of income with your writing, and that includes going beyond books into products, speaking and affiliate sales if you have a website. For more detail, check out How to Make a Living with your Writing.
OK, how did you do on your 2016 goals? I'd love for you to share in the comments below and join the conversation. Let's keep each other accountable!
Save
Save
Save
Save
Save