OLD POST ALERT! This is an older post and although you might find some useful tips, any technical or publishing information is likely to be out of date. Please click on Start Here on the menu bar above to find links to my most useful articles, videos and podcast. Thanks and happy writing! – Joanna Penn
Podcast: Download (Duration: 1:18:07 — 62.6MB)
Subscribe: Google Podcasts | Spotify | TuneIn | RSS | More
It's a big day!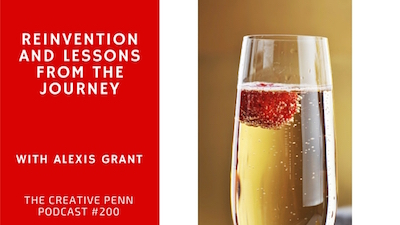 This is episode 200 of the podcast! The first show went out in March 2009, so this also marks over 4.5 years of podcasting every couple of weeks. That has to be a milestone worth celebrating!
In the extended intro, I reflect on the last 100 episodes and how things have changed for me, and then I have an interview with Alexis Grant, who I met online when we both first started nearly 6 years ago. All the show notes are below.
This podcast is sponsored by Kobo Writing Life, which helps authors self-publish and reach readers in global markets
through the Kobo eco-system. You can also subscribe to the Kobo Writing Life podcast for interviews with successful indie authors.
Kobo's financial support pays for the hosting and transcription, and if you enjoy the show, you can now support my time on Patreon. Thank you!
Reflection on the last 100 podcast episodes: How my life has changed
Episode 100 was a reflection on the first one hundred episodes, so this is a reflection on episodes 101 – 199.
When I interviewed David Wood about writing action adventure thrillers in August 2011, my first novel Pentecost was out and I had sold 7500 copies. I also had my original batch of 3 non-fiction books, none of which are available anymore. As I've mentioned before, fiction doesn't age but non-fiction needs updating or retiring!
I had just moved back from Australia to London after being away for 11 years – I left in 2000 to go traveling and just didn't come back for a while. I was still working as a business consultant, implementing accounts payable systems into large corporates (deathly boring!)
At that point, the big names in self-publishing were Amanda Hocking, John Locke and JK Rowling had just launched Pottermore – her own company selling ebooks and helping fans create things in her world. Rowling had never sold her ebook rights, and rather than let the publisher sell them, she started Pottermore to sell direct – essentially, the first big name to go indie, although people always seem to forget that fact!
Now, just over 3 years on, I'm a full-time author entrepreneur, happily living in London.
I have 8 fiction books (novels, novellas and short stories) and 4 non-fiction, that are selling in 58 countries, in 4
languages and in ebook, print and audiobook formats. Right now, I have 39 separate products available from these properties – and the penny has certainly dropped around exploiting multiple rights!
I'm an international speaker, paid to talk to people all over the world, and in Feb 2014, my book, One Day in Budapest, was part of a boxset, the Deadly Dozen, that hit the NY Times and USA Today bestseller lists.
Some memorable episodes that impacted my creative life and business
There's one book that I own in all three major formats – print, ebook and audiobook – and that's Turning Pro by Steven Pressfield. I re-read it several times a year and it kicks my butt every time. So interviewing Steve about his book, The Lion's Gate, really made all the years of podcasting and blogging and building a platform worth every second. I was a total fangirl in the interview, but when you meet one of your creative mentors, it's pretty exciting! I seriously thought about giving up the podcast after that, as I felt it was such a high point in my career!
That experience was compounded by interviewing two more veterans of the creative path in the same two weeks – David Morrell (most well known for First Blood/ Rambo) and Bob Mayer, another mentor for me in the indie space. I continue to learn so much from the interviews I do, and these guys can teach us all lessons about longevity in the game, as well as discipline and always learning new things.
In terms of my own business development, the interview I did with Orna Ross on rights completed the picture in my head of how rights work. That interview led to others with Jane Friedman and Elizabeth Hyde Stevens on business, and together they resulted in my move into translations, audiobooks and finally, my book, Business for Authors. There's no point in interviewing these amazing people unless I take action myself, right! I hope you also get actionable help from the show, however you consume it.
One of the big things I have been working through in the last couple of years is the fear of judgement and how to stop self-censoring.
My J.F.Penn side is much darker than the happy, jolly person you see on this show – I am honestly both people – but embracing my shadow side has been a real journey. I talked about this in an

Brooding thriller author, J.F.Penn!

interview with Chuck Wendig, who really does let it all hang out!
In terms of the writer's daily word count and work ethic, I continue to be inspired by the boys from the Self Publishing Podcast – Johnny B. Truant, Sean Platt and David Wright, all of whom I have interviewed separately on the show. Also, Kerry Wilkinson, UK crime author, totally floored me with some of his daily word counts. If you want to be as successful as these guys, you have to put in the hours!
Talking strategy with Charlie Gilkey was part of the catalyst for making some decisions around my own business model shift into primarily fiction, and taking the hit on other areas, as well as getting a virtual assistant and outsourcing more things, as well as stopping guest posts on the blog, and focusing on sharing my own voice. We all need to have those re-examination moments as we progress on the journey, or one day we lift our heads and wonder where the hell the time went!
I considered making this the last show …
Because podcasting is a huge time commitment and I need more hours on my fiction if I am to grow that side of things faster, BUT/
The fundamentals of why I do this still stand: I learn something from every person I interview and it enriches my own creative life, plus it (hopefully) helps you along your journey. It also helps me to connect with authors and entrepreneurs all over the world, widening my community and network, which I love.
Also, in terms of the financial commitment, I now have two corporate sponsors who pay for the hosting – which goes up every month as I add new episodes and get more traffic. Thanks to Kobo Writing Life and 99 Designs for their support.

I also have many of you supporting me on Patreon/thecreativepenn giving a few dollars per show, which over time will add up. So thank you VERY much if you are
supporting the show – the list of brilliant patrons is here. You are all superstars!
So, I'm committing to another year – thanks for joining me 🙂 Please do leave a comment at the bottom if you want to give me any feedback on the show.
Interview with Alexis Grant – one of the first people I met online!
Alexis Grant is an entrepreneurial writer and digital strategist, helping you create the life you want to live. You might know one of her sites, The Write Life, which focuses on helping writers create, connect and earn.
You can watch the video version of this interview here on YouTube or check out the notes below. We discuss:
How we first met on Twitter in 2009 when we were very new to the online world, and we were both working in corporates, doing our writing/blogging etc on the side. Alexis now runs a company that primarily runs blogs for small businesses. We both left our day jobs in 2011 within months of each other.
Why we are still here when many of the people we started alongside have fallen by the wayside
Persistence. Continuing to create every day, to connect with other people and persisting for the long term. Sometimes it's just about not giving up.
Entrepreneurship is not for everyone. It is perceived as riskier than a day job, although actually it can provide multiple streams of income and not just being dependent on one. But it is difficult and particularly hard when you're just starting out, even when it comes down to what you do every day. I mention in Year 1 reflection how hard it was, how defining your own life is a huge adjustment, and how I needed to get out the house for a commute and a coffee etc. We talk about wobbly moments and how we still have them. You're always going to have self doubt.
On work schedules and whether 'balance' ever happens with creative entrepreneurs
I definitely don't have balance and I love it! I talk about my schedule and how everything in my life is related to writing and my business. Even when I am traveling or with my husband, I am finding material for my books in all of my life. Alexis talks about her schedule and how she exercises during the day, and how she does things like bike rides with her husband when other people might be working during those hours.
We have both removed email from our phones (Alexis has personal email but I have no email at all!) We talk about making time for creating and 'doing' time, and then responding at different times. We both use schedules and to do lists – I have a Filofax and use Things app; Alexis uses Google Calendar and Tasks, as well as Flow for her team, and says that daily exercise is key for her discipline and wellbeing.
On our business models and how they have changed over time
We talk about courses and education, which is how we both started with the 'monetization' aspect. Alexis has ebooks and email courses on various topics including How to be a Twitter Power User. I am slowly cutting down on my multimedia courses, although I still offer video courses on book marketing, author entrepreneur, how to write a novel and fight scenes, and I am ramping up audio and books in other formats.
Alexis' main income stream is from clients, as she manages a number of blogs. She mentions The Brazen Life as one of the sites she manages and produces content for.
As content creators, we both have a small income stream around sponsorship, advertising and affiliate income, but it's not a major income stream for either of us. I have income from professional speaking and small amounts of consulting. We also talked about using webinars for growing an email list, developing loyal fans and selling affiliate products, but both of us find them too high maintenance so we don't use them much now.
On writing books and publishing options
We talk about books and how I moved from not writing fiction at all, to now having a large chunk of my business income from fiction. When I met Alexis, she was writing a travel memoir about a solo trip in Africa. She put it aside several years ago when traditional publishing didn't work out and has just picked it back up again. She talks about how that project is progressing.
On reinvention and reframing failure
We talk about our various 'failures' and how we both actually just consider things as experience and experiments. We both reframe what we've done in the past as just part of what we do. Everything is a lesson learned, and 'failure' is just a step on the journey.
Your attitude and the way you frame experience will influence the way others see you. When entrepreneurs talk about the 'pivot,' it's actually working out what's not working and then shifting your direction.
Discovering what you love to do is part of the journey as well. Deciding what to say no to, is just as important as what to say yes to. You have to actively choose what to focus on and spend your energy on. I mention the sign on my wall, "Write to live. What is living today?" as a way to keep the focus on living and experiencing as well as writing and working.
Going forwards …
We discuss the future of content marketing – the more time goes on, the more high quality content is rewarded, so that will continue to be important. We talk about the fact that we both stopped reading so many blogs, and focus more on creating our own things. It doesn't matter how the technology changes, people will still want information, inspiration and entertainment.
"It's about executing, rather than thinking about executing."
The 'content shock' and the 'tsunami of content,' and thoughts on how you stand out in a crowded space. It's about personality and sharing your take and your experience, as well as developing trust over the long term. People will want to get their information from you, if they care about you as a person.
In our experience, most people aren't willing to put in a) the time b) the work and c) the personality. It's about persistence and sticking with it. We've both done the same things – created good content, networked with peers and created relationships – every day. We talk about the importance of developing friendships with other creative entrepreneurs who care about the same things as we do.
You can find Alexis at AlexisGrant.com and also at TheWriteLife.com and on twitter @alexisgrant
Top image: Flickr Creative Commons John Wardell, typewriter by J E Theriot,
Save