Today I'm talking about "show, don't tell," one of the most common adages thrown around in the writing community, and one of the most confusing. I'm going to try and cut through the noise and keep this simple.
Watch the video below or here on YouTube.
There are two main mistakes that new writers make.
1. Telling characters' feelings
The first is stating the word that describes the way your character feels. For example, "I'm angry with you," Jane said.
Or "Jane was angry with John."
We now know that Jane is angry, but that is TELLING us that Jane is angry.
Whereas when we come to show that same emotion, there are different ways we can do it.
For example,
Jane slammed the mug down on the countertop. The coffee spilt over, staining the wooden kitchen table.
"You alright?" John asked.
"I'm fine."
You know Jane is angry by her action in slamming the mug down and saying, "I'm fine."
These are common ways that people show they're angry, and saying "I'm fine" is classic sub-text, where the words don't match what's really going on.
You can also use physical description.
Jane slammed the mug down, her shoulders tense, her fist balling by her side.
If you're struggling with this, use The Emotion Thesaurus to help you. You can also check out this interview I did with Becca Puglisi on writing emotion.
You can also use sensory detail to describe the scene.
The coffee overflowing and staining the table could be a metaphor for the state of their marriage. The smell of spilt coffee brings it alive.
If you just say, "Jane was angry," then the reader then has to put all the detail in herself. Whereas it's your job as the writer to put the detail in and to essentially manipulate the reader's mind so that they understand what you're saying.
Writing is telepathy. You have to show the reader what's really happening by describing the scene and they will then mirror it in their mind, experiencing what the character feels. In that way, they will understand the emotion rather than being told what the emotion is.
Respect the reader
Most readers read a lot of books, so they know what's going on. They are intelligent and they're humans and they behave in certain ways like we all do. You don't have to overwrite things. You can use subtle subtext that the reader will recognize as showing an emotion.
I think that's a really good way to think about it. How can you communicate to the reader what's going on without using the one word that states how the character feels?
2. Reporting
The second issue is reporting something that happened. Either the character is on the phone, they're sending a text message, or there's a letter.
Sometimes that can be a good device to use for different story reasons, but other times, it's just lazy.
For example, Fred sends an email.
Hi Auntie Maggie, I went to the funfair with Jane today. It was awesome.
Now, you're telling what happened, but what you need to do is show that scene.
Instead of reporting that Fred went to the funfair, write a scene at the funfair which brings it alive.
We're going to get a lot more sensory detail, a sense of the experience, instead of a very short description stating the fact that they went to the funfair.
When should you tell, not show?
Of course, there are times when you will tell and not show because otherwise, your book would go on forever. You do need to move the story forward in other ways.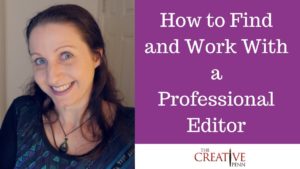 I will often intercut scenes in my books. Instead of telling everything about the transitions, I'll just move on to the next scene. A bit like in a movie. You don't have to show everything all the time, you just move things to a different location or change things up and the reader will jump with you. Readers are very sophisticated.
So those are the two main ways that new writers particularly tell, not show.
Go through your manuscript and see if you can find similar examples. And remember, you can always work with a professional editor if you need help. Click here for how to find and work with a pro editor.
What are some other examples of show, don't tell? Please leave a comment below and join the conversation.