This week, the International Thriller Writers announced the finalists for the 2017 awards. My novel, Destroyer of Worlds is a finalist for the Best Ebook Original category and I am over the moon!
So why does this mean so much to me?
(1) Validation
One of the amazing things about being an indie author is the fact that there are no barriers to publication. Anyone can write a book and put it out there. But that doesn't mean that people will buy it or read it.
So, an indie author's validation often comes from book sales and customer reviews, as well as the internal validation of the creative process. That's certainly what it's been for me and I have several thousand good reviews from readers, I make a six figure income with my books, and I continue to write in the genre I love.
But to be honest, I still crave validation that I can actually write a story.
I want someone to say, "You're good enough. You deserve to be here." I want to be accepted by the industry and judged by my peers. ITW is primarily an organisation of traditionally published authors with some of the biggest thriller names as members and judges. That's why I care so much about this.
I started writing my first novel in 2009, and Destroyer of Worlds was my 12th. I'd just finished taking the Depth in Writing course from Dean Wesley Smith and Kristine Kathryn Rusch, and I was confident that the story hung together well.
The idea had also percolated for years. I first visited India in 2006 and saw a statue of Shiva Nataraja, the Hindu destroyer of worlds, in a museum in Delhi. That trip also sparked the opening scene of Stone of Fire on the burning ghats of Varanasi.
We went back to India in 2013 and cycled through the south of the country, and many of my experiences on those trips come through into the book. I'm one of those people who love India and it shows in my writing!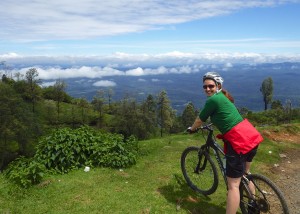 So Destroyer of Worlds means a lot to me as a story, and it's also quite original, in that there aren't many bestselling thriller novels in the US that are set almost entirely in India.
(2) Recognition for my writing, not just my 'marketing and business' skills
So many people have told me that I'm a successful writer because I am good at marketing and business.
Yes, I do work at those things, but I work just as hard at my craft.
I continue to take classes on writing fiction, both online and in person. I read books on writing, and with every novel I write, I try to get a little better. I read several books a week and I am always looking for things I can learn.
As J.F.Penn, I want to be known for my stories, not for how I publish or how people find me. Yes, I love being a non-fiction author and I love helping authors through this site, but in my deepest self, I want to be known as a storyteller.
Becoming a finalist in the ITW awards has made me so happy because it means I've improved. The writing craft is a lifelong journey, and I am one step closer to being a better writer.
(3) Career opportunity
Winning an award like this can help with book marketing, or getting the book noticed by foreign rights agents or even film/TV. I'll be meeting with some agents at ThrillerFest and as Destroyer of Worlds is set in India, I'm particularly interested in what might happen within the Indian market.
(4) Ego
Authors balance massive ego with chronic self-doubt. We have to be egocentric enough to think that someone else might want to read our words, but we often suffer from thinking that our books are terrible.
So let's be clear, I want that trophy on my shelf!
Here's a picture of me with CJ Lyons, when she won the award in 2015. I'm clearly practising for the day I will hold it 🙂
What happens next?
I head off to Thrillerfest in New York City in July and collect the prize!
Of course, I might not win, but just being on the finalist's table will be incredible. Watch my twitter account @thecreativepenn on Sat 15 July, 2017 to see if I take home the trophy.
What are your thoughts around validation as an indie author? Do you want to win a writing award/prize? Please join the conversation and leave a comment below.
Check out Destroyer of Worlds
An ancient weapon threatens the heart of India.
From New York Times & USA Today bestselling author, J.F.Penn.
A bomb explodes in the center of London and a fragment of an ancient Hindu sculpture is stolen from the ARKANE Headquarters by a secret organization bent on mass murder. If the sculpture is put together again, it will reveal the key to the Brahmastra, a weapon with the power of a nuclear explosion.
As those they love are threatened, ARKANE agents Morgan Sierra and Jake Timber must search for the pieces of the relic before it can be activated at the Kumbh Mela, the greatest pilgrimage on earth.
In a fast-paced adventure from the slums of Mumbai to the temples of Kolkata, the Taj Mahal in Agra to the killing fields of Rwanda, Morgan and Jake must find the pieces of the sculpture before it's too late.
Destroyer of Worlds is Book 8 in the ARKANE action adventure thriller series, but can be read as a stand-alone story.
Purchase now in ebook, print, or audio format!