I do a lot of research for my J.F.Penn thrillers and strive for historical accuracy in all my books, but historical fiction writers definitely have far more of a challenge!
Historical fiction readers are devoted to the genre and may know even more than the author about the period.
So how do you balance accuracy with authenticity of story? In today's article, historical fiction editor, Andrew Noakes, gives some tips.
"This is the worst book I've read in my life. It's full of historical inaccuracies. If you're looking for an author who knows something about their period, don't bother."
This is the review that all historical fiction authors dread. No matter how many hours of research you've done, no matter how much effort you've put into ensuring every detail is historically accurate, there's always the niggling fear that you're going to be blindsided by embarrassing mistakes and oversights.
Historical fiction readers aren't just looking for a great story. They're looking for a story that immerses them into a historically authentic world – a world imbued with the conventions, language, and practices of an earlier time.
So how do you make sure you give them that?
Simple, surely? You do your research, stick to the facts, and make sure you depict everything accurately.
Right?
Wrong.
In truth, it's more complicated than that.
How can you accurately produce historical dialogue when people used to speak in Middle English…or Latin?
What about when people from the past actually defied the established conventions and stereotypes of their time?
How will your reader know what to believe?
The trick is to understand the distinction between authenticity and accuracy. Yes – historical fiction readers want to be immersed into an authentic world. In other words, a world that feels accurate.
Very often, this means creating a historically accurate depiction. But, when accuracy becomes alienating or confusing – or when it counterintuitively detracts from the feeling of authenticity – you'll have no choice but to fictionalise the past.
Figuring out how to do this and where the boundaries lie can be challenging, so I've put together five top tips for helping you achieve authenticity when it conflicts with accuracy.
1. Don't write dialogue like you're Chaucer
"Sir," quod this Somnour, "hayl! and wel a-take!"
"Wel-come," quod this yeoman, "and every good felawe!
Wher rydestow under this grene shawe?"
Seyde this yeoman, "wiltow fer to day?"
If you're striving for true historical accuracy in your 14th-century novel, your dialogue should look something like this (although probably without the poetic meter and rhyme!). These lines from the Canterbury Tales are written in Middle English.
If you opt to write your dialogue like this, your readers will find it impressive for all of about 10 seconds before moving onto something more comprehensible.
Never write your dialogue in Middle English. Or Old English. Or Latin.
But don't write it in entirely modern English either.
Here's a modern translation of Chaucer's lines above:
"Alright fella," said the bailiff. "Pleasure."
"Pleasure's mine mate," replied the yeoman. "Where you off to, then? Going far?"
This doesn't really strike the right tone. While it would work fine in contemporary fiction, the modern colloquialisms will grate in a historical novel.
Here's an alternative:
"Good morning," said the bailiff, "Well met."
"Well met," replied the yeoman. "To where do you ride? Is it far?"
This works a lot better. We've taken out the modern colloquialisms and replaced them with formulations that were either genuinely used in some form in the late 14th century ("Good morning") or that sound archaic or neutral enough ("Well met") to be inoffensive to the historically conscious reader.
We've also used some phrasing that sounds slightly archaic but is perfectly intelligible ("To where do you ride?"). At the same time, all of the unintelligible or jarring words and phrases from Chaucer's version are gone. No "quods", no "seydes", no "wiltow fer to days".
If you can learn to navigate these compromises and strive for authenticity rather than pure accuracy in your dialogue, you'll have one important element of writing immersive historical fiction nailed down.
2. Stay away from anachronistic words…even when they're not anachronistic
Here's a little test: which one of these terms of endearment was not used prior to 1600?
Sweetheart
Darling
Baby
Honey
What? Surely none of them were, right? Wrong.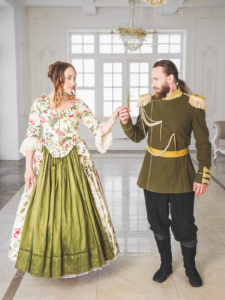 Only "baby" was not used as a term of endearment prior to 1600 (it was first used in this way in the 19th century). The others go way back – "sweetheart" to the 13th century, "honey" to the 14th, and "darling" – well that goes back all the way to the 9th century!
The point is this – word origins can be counterintuitive. You could use "honey" in your 14th century novel, but your readers may well refuse to believe it was really used in that context back then.
They may even leave a review accusing you of using historically inaccurate language. How annoying is that?
The reality is that, if the word feels wrong for your time period, your readers are probably going to object.
As perverse as it may sound, you're better off staying away from words that could be jarring in this way. Something like "my love" is always going to be a safer option than "honey".
Other words can catch you out in the opposite way.
The word "sadistic" sounds neutral enough that it might go back a few hundred years in one form or another, but, actually, its first recorded use was in 1892. The word "boycott" also goes back to only 1880. "Silhouette" was used in its broad sense only from 1843.
What do these words all have in common? They were named after people.
Whether or not you use them in stories set earlier than their true origins depends on your risk appetite. A word like silhouette, for example, is very unlikely to attract objections or to detract from the sense of authenticity in your novel, but the lesson is to never assume!
3. When the truth is stranger than fiction, make use of perspective
In history, the truth can be stranger than fiction. Often, this makes for great stories. Other times, it's a recipe for confusion and disbelief.
Did you know, for example, that in the late 1700s it was thought that a man could avoid taking on the debts of a woman he married if she were to be naked (or almost naked) during their wedding ceremony?
Would a general reader really believe this if you included it in your historical fiction novel? Perhaps. Perhaps not.
That doesn't mean you can't include things like this, though. If you think a reader might find something strange or unbelievable, then acknowledge it as such and provide an explanation.
How do you do this?
Simple. Make use of perspective.
Going back to the example of naked weddings (or smock weddings, as they were called), if you depict one or refer to one in your novel, then also depict one of your characters finding it strange and hard to believe.
Perhaps you have a character of a sensitive and sheltered disposition who thought such things were a myth and is horrified that they really happen. This then gives you an opportunity to acknowledge your readers' disbelief while reinforcing the truthfulness of the depiction – for example, by having another character explain that they're real and have been going on for years.
4. Acknowledge stereotypes even if you want to defy them
Historical facts can go the other way, too. Take the following stereotypes:
Upper-class men never used to attend childbirth. Wrong! Though certainly uncommon, there are examples of it happening.
Women didn't fight. Wrong! There are hundreds of examples of women leading armies into battle or fighting alongside men, sometimes in disguise.
Women didn't inherit property. Wrong! It could happen, even under the system of primogeniture (right of succession of the first-born child). Unless an 'entail' specifically forbade it, daughters could inherit land and property if there were no sons.
The problem is that these stereotypes are so well entrenched that a reader might not believe you if you depict one of your characters defying them.
As above, if you want to defy them, you're going to have to at least acknowledge them.
Want to portray your Regency hero rushing to his wife's side during childbirth? Fine, but have another character acknowledge that he's deviating from a custom.
Want to depict your medieval heroine going into battle? Alright, but be prepared to show what tricks, political power, or unusual circumstances allowed her to do so.
5. Not everyone used to play by the rules
It's worth considering that historical conventions were observed in the same way that modern conventions are observed – imperfectly. People used to ignore the rules. People used to misunderstand them. People weren't aware of them.
Before you make every single character in your novel a devout rule-follower, consider that this might make for a less interesting story.
Sure, it was a social faux pas during the Regency era for a gentleman to initiate a conversation with a lady he did not know, but that doesn't mean it didn't happen, and it certainly doesn't mean you can't put it in your novel.
Just make sure you don't portray everyone doing it, and use the other characters' reactions to show that it was considered a breach of etiquette.
Likewise, you can portray a Regency-era woman breaking through gender conventions. Just make sure you make it clear what obstacles she faces, what the limitations are, and how much conflict it causes.
Don't live in fear of a bad review
Bonus tip – don't live in fear of a bad review. It might happen to you even if you follow all the rules. It might not. Do your research. Check your facts. Use these tips to mitigate the risks. And then move forward.
Historical fiction authors can become buried in the search for accuracy, so much so that they're too afraid to publish. So much so that the story takes second place to the history. This doesn't need to be you.
Make sure your novel feels authentic, but don't lose sight of writing the story you want to write.
Do you write historical fiction? What aspects of accuracy vs. authenticity do you wrestle with? Please leave your thoughts below and join the conversation.
Andrew Noakes is a specialist historical fiction editor. You can get a free copy of his complete guide to accuracy and authenticity in historical fiction here, including a 3 step plan for ensuring historical authenticity in your novel, advice on how to balance historical accuracy with creative license, and useful research tips to help you avoid historical howlers. You can also visit his website and blog at TheHistoryQuill.com.
[Costumed woman photo courtesy Nick Karvounis and Unsplash.]