Some people think I'm on social media all the time because my presence is there 24/7, but my secret weapon is automation and scheduling, as well as tools that enable me to use social media without spending all my time on it.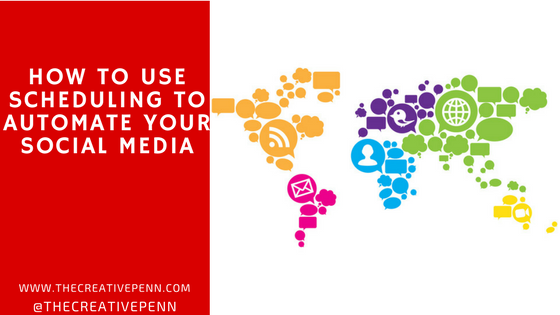 Let's face it. We all have a love/hate relationship with social. We love it for the connection with friends, influencers, updates, recommendations and ability to market to readers.
We hate it for the all-pervasive, addictive need to check whether people have liked our pics, read our updates, clicked on our ads, or just to see whether there's anything new going on.
Thankfully there are tools we can use and habits we can build that reduce the amount of time we spend on social media – but you can still use it for marketing.
An additional benefit is that scheduling can help you reach readers all over the world in multiple time zones, tweeting or sharing while you're asleep but others are awake! This was how I established my author platform when I lived in Australia, but still managed to attract readers from the US and UK even though I was the other side of the world.
Batching
The first step is behavioural change, using batching to set aside a specific block of time to do a task once a week or once a month, instead of every day.
So instead of checking your accounts five times a day and finding things to Tweet or Facebook about, you can spend an hour each week scheduling and organizing content for your social accounts. Then, you can check in with the accounts perhaps once a day to respond to messages or to mentions from readers and fans.
Batching and scheduling your social media posts means your accounts will be continually active, but you won't have to be.
Scheduling Tools
[Update 31 March 2018 – there have been changes to Twitter's Terms of Service around scheduling. Here's MeetEdgar's post about it, but scheduling exactly the same content is now not allowed, so please check this before using any scheduling service for the media you are interested in.]
MeetEdgar is the best tool around for scheduling content that you want to share more than once. If you have a series of blog posts on writing your latest book, or on book research, MeetEdgar is the perfect tool to share those posts and it is my #1 tool for sharing evergreen content.
Yes, it is a premium service, but if you want to focus on content marketing as I do, it frees up a lot of time and enables you to get traffic to your backlist content.
It works like this:
You add the posts you want to share into your MeetEdgar library
You choose how often you want Edgar to pick a post from that library to share
You can also divide the posts into specific categories (blog posts, inspirational, questions, tips etc.) and you can create unique categories that fit you if you want to
You tell Edgar how often you want to post each day (you choose specific times) and also which library categories you want him to pick from. For example, every Tuesday at 2pm a post goes out from your blog posts category. Wednesdays at 7am, you share from your tips category. It's all customizable and changeable at any time.
You can set Edgar up to share as many or as few times per day as you want
The tool can be linked to your Twitter, LinkedIn and Facebook accounts
You decide where posts are shared. If you want them to go to all accounts or just one or two
I'm an affiliate of MeetEdgar as it is a fantastic tool that I use myself and highly recommend.
Buffer App
When you have content that you only want to share once, Buffer App is a great tool. You can combine using this app with MeetEdgar – you don't have to choose one or the other.
I use Buffer for one-time content, and Edgar for recurring, evergreen content.
Buffer is free to use with certain limited features. The free version will allow you to post up to 10 posts in advance (called your Queue). If you use the paid version, your queue has unlimited size and you can schedule as many posts as you like.
As mentioned in the intro, the idea is that you can batch the task of grabbing information and articles from the web and sharing them on social media. When you see a cool article or link that you want to share, you simply add that link and a headline to your Buffer App queue.
The article will go out according to the schedule that you've chosen ahead of time. You can choose to have several posts go out each day, or just one. It will link to your Twitter, Facebook and Instagram accounts, just like MeetEdgar.
(At the time of this writing, you need to use the paid option for Buffer to schedule your Instagram posts or you can use Hootsuite which has similar functionality.)
It works like this:
Link the app to your social media accounts
Set up your BufferApp schedule for the number of times per day you'd like to share posts
BufferApp will even suggest times of day that work based on your geographic location
When you see an article or post online that you'd like to share, copy the link address from the browser
Paste this link into the "What do you want to share?" box in BufferApp
Very often, the original post will have images assigned to it, so you can choose to share one of those with the link and headline (remember that images catch the eye more than just plain text)
Feedly and Buffer App
Another great tool to be familiar with is Feedly.com. Often we have a list of favorite websites or sites that our useful to our target audience in our head, or better yet, bookmarked in a web browser.
A better way to collect all the sites you often post about is to use Feedly. Feedly is an RSS and blog reader which shows you only the sites you're interested in, so that you can scan quickly and decide which individual articles to post. This saves you the time of going from site to site each day looking for posts to share.
It works like this:
Sign up at Feedly.com (it's free)
Once you're signed up you'll be shown a search box
Add the website address of a site you regularly share articles from
When Feedly finds the site click Follow
Feedly will ask you to place this site in a category – it will suggest some names but you can custom create your own
On the left side of the page you will see your list of sites under their category name
Click on a site name and you'll see a list of recent posts
Click on the article name and you'll be taken to that post
You can then share or use one of the other tools mentioned here to schedule the post
Scheduling in Facebook
You may not be aware that Facebook allows you to schedule posts in advance. This is a great feature that, once again, helps us to batch the task of filling our Facebook queue, so we don't have to take time every day to post.
It works like this:
When you're on your Author page, create a post just as if you were going to share it immediately
Then, instead of clicking on the 'Publish' button, click on the arrow to the right of that
You'll see 3 options: Schedule, Back date, and Save as Draft
Choose Schedule
A box will pop up where you can choose the date and time you want the post to go live
You can do this for as many posts as you like, which ensures your Facebook page always has something fresh on it
TweetDeck
For organizing your Twitter feed and coping with the firehose amount of information on Twitter, you can't beat TweetDeck. Best of all, it's free to use.
It works like this:
TweetDeck is based on organizing the information that's important to you in columns.
You get to choose what content your columns hold and how many you have
Once you've created an account using your Twitter log in credentials, you can begin setting up TweetDeck in a way that works for you.
You'll probably have one column dedicated to your own profile, so that you can see the tweets you've sent. I also have columns for the lists I have created with people I want to pay attention to.
Then you can have columns dedicated to certain keywords or hashtags. These will only show you tweets related to those words, particularly useful if you attend an event and want to see what's going on
You might have one column that only shows when your twitter handle is mentioned by someone else (called 'Mentions')
To add new columns, click on the + on the left side of the page
You'll see a pop-up box that will allow you to choose what type of column you want to create
Working with an Assistant on Social Media
So far we've focused on the tools you can use to organize and schedule social media posts. If you work with an assistant, they can help you with scheduling which frees even more time.
For example, I use Feedly to capture and organize articles I think my audience of writers and authors would be interested in. I then save the links for the articles I want to share into Evernote with one click from the Feedly app on my iPhone.
I share that Evernote folder with my assistant and she loads those article into Buffer. This way, my Buffer queue is always full, but the amount of work I have to do to curate the information is at a minimum.
My assistant also helps by adding my posts and articles from The Creative Penn to Meet Edgar. She goes into Edgar at the beginning of each month and adds all the posts and articles from my site from the previous month to the Edgar library. These are then automatically shared by Edgar, based on the schedule I've set up.
It's not necessary, or even practical, to have an assistant do ALL your social media posts for you. But getting help with 80% of your shares takes a large part of the work off your plate if you have some budget for this type of content marketing.
You might want to continue to post personal things – images from research you're doing or posts from conferences – yourself.
And in fact, doing the occasional post yourself is a great way to add variety to the things you're sharing. It will add personality and depth to your social media shares. If you check my Twitter stream @thecreativepenn, it can be quite easy to see what is scheduled content and when I am personally replying to things or sharing personal pictures.
Social Media and Book Marketing
We discussed Meet Edgar, above, and here's another great way that tool can support you.
When you've got a new book coming out, you'll likely want to have regular posts and mentions about it, especially in the first few days or weeks after publication.
You can create images and promotional posts, and then schedule those using Meet Edgar. I use www.Canva.com for my image sizing as they have templates for all the social media sites.
In this way, while you're focused on the myriad other details involved in a book launch, you'll know the word is still getting out there in a regular drip feed that you've set up in advance.
#Don'tForgetTheHashtags
For your Twitter and Instagram posts, it's important to remember to use relevant hashtags.
A hashtag, if you're not familiar, is a keyword relevant to your post that is also used as a search term. So if someone on Twitter or Instagram is looking for information on writing or indie publishing, they can type those words into the search box and Twitter will show them posts that have used those hashtags (#writing #amwriting #indieauthors #publishing).
In this way, new followers can find your posts when they're looking for information on a specific subject.
There are a few ways to find the hashtags that will work best for you and your subject:
Do a search yourself for terms you think others might use. For example, if you write and post on social media about science fiction, search for terms related to that (#sciencefiction #space #spaceopera etc.) to see what other authors are using.
Use a tool like SproutSocial.com or Hashtagify.me to do searches for hashtags and learn about their popularity, relevance and also related hashtags you might not have thought of.
Follow others in your genre or industry and watch the hashtags they use.
(Note: With the January 2018 changes to the Facebook algorithms, Pages (i.e., the page for your business) are going to be downplayed even further, meaning your business page is going to have less reach moving forward. This makes hashtags less important on Facebook than on Twitter and Instagram.)
Images
As the social media space becomes even more crowded and we all feel inundated with information, images become even more important to your social media posts.
Most bloggers know this, thankfully, and will feature images with their posts. When you share those posts, be sure to use one of the images on offer. (For example, when you use Buffer to schedule a post, it will show you which images are available to share and you can choose one or more.)
When you are creating your own blog posts, it is important to have an image that goes along with the post when it's shared by others. You can use Canva to create these sharing images.
If you set up a template in Canva, branded with your site colours, you can use the same template each time, just swapping out the title text and the eye-catching image within the sharing image. I use BigStockPhoto to buy images for my social media sharing, but there are many options available, like iStockPhoto and Shutterstock.
Interesting images catch readers' eyes as they scroll through their social media feed. Make sure your sharing images are eye-catching and have fun with visual ways you can get eyeballs on your posts.
Do you use any of these tools to support your social media strategy? Are there others you recommend? Please leave your thoughts below and join the conversation.