OLD POST ALERT! This is an older post and although you might find some useful tips, any technical or publishing information is likely to be out of date. Please click on Start Here on the menu bar above to find links to my most useful articles, videos and podcast. Thanks and happy writing! – Joanna Penn
One of the inherent parts of being human is a general dissatisfaction with where we are. However much we achieve, we often want more.
This has an evolutionary benefit as it means we are always striving, always creating, always building. But it's important to recognize your achievements, so whatever you decide you want, you also need to establish how you will measure this success.
I've also been thinking about it in the wake of the discussions around the Author Earnings site, which has had the industry blogs all aflutter and brought out the agent and publisher big guns to discuss the impact of self-publishing. Some have said that the report is turning the focus to money, that writing should be about creativity and the rewards are in the work themselves.
But it's important to remember that we are not a homogenous bunch, and we all strive for different things, for different reasons.
For me, it comes down to three questions:
What is your definition of success – for this particular book and for your writing career?
How will you track and measure that success?
What do you want to do with that success? What is the point in your work?
It will also tend to change over time as your definition of success will be dependent on the progression of your writing career. In this article, I outline some of the more common responses to the question, as well as potential options for measurement.
(1) I want to create something I am proud of and hold my book in my hand 
This is perhaps where we all start – with the desire to finish a project and create something tangible. This is also why most first time authors want a printed book.
I helped my 9 year old niece publish her first book, which led her to win national prizes speaking publicly about the experience. I also helped my Dad with his historical thriller, Nada. Neither of these are really commercial prospects, so the focus of success is more on creativity, which is a totally brilliant reason to write a book!
If this is your goal, check out this article on how to self-publish and look at print-on-demand options. If you don't want to DIY, I would also recommend you read 'Choosing a self-publishing service,' by the Alliance of Independent Authors so you can avoid the (ever-increasing) scams in this growing industry.
(2) I want to see my book on the shelves of a bookstore
We have shopped in bookstores all our lives and for many of us, the bookstore is a place of solace as well as adventure. When I was most miserable in my job, I would go to the bookstore at lunchtime and indulge in retail therapy to escape my life for a time. To see a book with our own name on it on those shelves must surely be every authors dream.
This is easy to measure but the truth is that it is extremely difficult to get into bookstores as an independent author. It's also costly even if you can manage it because of discounting and returns.
You can definitely do it – as Dean Wesley Smith explains in this article. It's also possible to build relationships with your local bookstore as Karen Inglis, children's author, has done. But it's about where you want to spend your energy, and for me, print distribution is not a major concern.
I'll admit that this is still a dream of mine and I'm definitely open to print only deals with traditional publishing, but it is no longer a definition of my success.
(3) I want to reach readers with my words
This is fantastic but I always challenge this definition of success, because it is so intangible. If you want to reach readers, then just put your book out for free and on every platform in the world, as Seth Godin did with 'The IdeaVirus' a few years ago. But most people don't mean this kind of 'reach.'
So be more specific – does it mean 10 x 5 star reviews on Amazon? Does it mean a fan email from a reader you have never met and who isn't your friend or family member? Or should you measure this reach in book sales?
(4) I want to sell 10,000 copies of my book/s
This is a better definition than (3) because it is measurable and you know when you get there. The number is obviously dependent on many things: the genre you write in, as a children's picture book will sell far fewer copies than a commercial romance novel; a literary novel will generally sell less than a commercial thriller. It is also dependent on how many books you have, as you will more easily reach higher figures with more books.
This volume type of definition will also change over time. I started off with 1000 books as a goal when I only had one book. Then I moved to 10,000, and I am just about to crack 100,000 so now my goals have changed again.
(5) I want to win a literary prize and receive literary/critical acclaim
You can achieve this as an independent author. The Alliance of Independent Authors has an Open Up To Indies campaign, which will hopefully mean that more prizes and festivals are open to self-published books over time. There's also been the recent success of A Naked Singularity by Sergio de la Pava, which started out as self-published and won the PEN/Robert W. Bingham prize and has been shortlisted for the Folio prize.
But you're still far more likely to win a literary prize if you go through the traditional publishing route. It's the goal of most MFA programs to produce books capable of winning prizes. As for critical acclaim, again, you're more likely to get that through traditional publishing and reviews in literary journals.
If this is your goal, you should also be aware of recent research that shows literary prizes can make the book less popular. So this definition of success may be incompatible with making a full-time living as an author.
(6) I want to make a full-time living with my writing
Again, I challenge this because the definition of 'full-time living' is different by country, even by region, as well as the huge difference between income needs from a family with kids to a professional couple or single writer. Try and be specific about the actual figure you are aiming for, and think about how that may grow over time, based on how much you are writing over the next few years, as well as your own financial requirements.
Then have a look at the Author Earnings website to see if your genre is likely to earn that kind of money. Follow authors like HM Ward, Hugh Howey, Joe Konrath, Barry Eisler, CJ Lyons, Bob Mayer, Dean Wesley Smith and Kristine Kathryn Rusch who all make a great living writing books. Study how they write, how they run their creative businesses and their recommendations.
Making a full-time living became my goal in 2009, and in September 2011, I left my job as an IT consultant to become a full-time author-entrepreneur. I make about one third of the income I used to make back then, but downsizing, paying off debt and changing my own definition of what a 'full-time income' was meant that I could leave the job I hated and start this new creative life.
An income goal is not necessary for everyone, and for many, creativity alone is the reward.
But I have been challenged on my own focus so I have been thinking about it a lot recently. My desire to earn (very) good money stems from my upbringing by a single Mum who worked long hours to provide for me and my brother. I am married, but my financial independence as a woman is incredibly important to me, and I've had paying work since I was 14.
My lifestyle is also important, with travel being a part of what I define as a good life rather than ownership of physical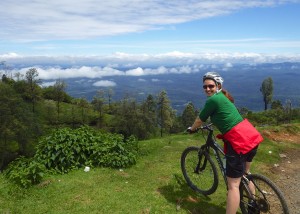 things. Last year I had several weeks cycling through South India, and this year I will be in Canada, Spain or Israel, as well as back in New Zealand. So the 'why' behind my definition of success is around my self-esteem as a financially independent woman, as well as wanting to live life on my own terms.
(7) I want to create a body of work I am proud of over my lifetime
This is the definition that will keep you honest about your creative output. You won't rush a book to publication. You won't put a book out without a professional edit, or a professional cover. You will strive for the best this particular project can be.
I am trying to balance this with (6) above and it can be difficult. Part of me wants to learn to write faster and produce more words, but my books are characterized by deep research and a sense of place, both of which require a longer writing process. I also want to live a life of research and travel so I want to honor that part of my process.
In the end, I want to write for the rest of my life, hopefully another 50 years, so I'm in this for the long haul. How about you?
I want to hear from you on this important topic. What is your definition of success? How has it changed as your writing has progressed? Who are your role models for success? Please leave a comment below and join the discussion.
Top image: Flickr Creative Commons Clouds by Jonathan Kos-Read