Thanks for checking out The Creative Penn. Here are the most frequently asked questions which hopefully will help you find what you're looking for!
The site is so huge. How do I search The Creative Penn?
If you want to search the site, use the search box below.

I'm new to writing and/or self-publishing and/or making money writing. Where do I begin?
First, register and download the Author 2.0 Blueprint. In this free ebook and video series, I share everything you need to write, publish and market your book, as well as how to become an author-entrepreneur. After providing your email and confirming it, you will have access to the Blueprint as well as receiving my tips by email every month.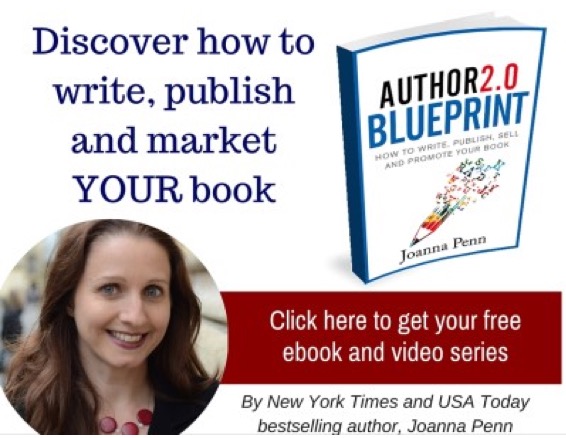 For more detail on self-publishing in particular, read my book, Successful Self-Publishing, free on all ebook stores and also available in print and audiobook format (narrated by me!)
Help! My books aren't selling well. How do I market my book?
Writing and publishing your book are just steps along the way. Selling your book is a completely different process! But don't worry, we all go through a book marketing learning curve. Check out the articles on the Marketing page.
You can find more help in my book, How to Market a Book Third Edition, available in ebook, print and audio.
You can also find Books and Courses on multiple topics as well as my weekly podcast for writers.
I want to hire you to speak at an event
I am always happy to consider professional (paid) speaking opportunities. You can find details on my Speaking page and Testimonials page and then you can use the Contact form if you'd like to get in touch.
I'm a publisher/rights buyer and I'd like to discuss licensing for your books
I'm always interested in licensing my work, so please use the Contact form to get in touch.
I'm having issues with something related to The Creative Penn
Send an email to my assistant at Alexandra@thecreativepenn.com and she will help you.
I'm a supporter of yours on Patreon. Where do I submit my questions?
When you submitted your pledge, I will have messaged you on Patreon with the link to submit questions. If you can't find it there, please email Alexandra@TheCreativePenn.com and she will send you the info.
Will you publish my book for me?
The Creative Penn is not a self-publishing service or publisher. I am an author and just trying to help other authors with my books, podcast, blog, podcast and courses. Please check out the Publishing page.
Will you read/review my manuscript?
I am an author, not an editor or a publisher so I don't review manuscripts or accept books for review. Check out the list of editors here, or find a writing group locally. For book cover design, check out the list of designers here.
I need an editor and/or book cover designer. Can you recommend one?
If you need professional editors or book cover design, just click on the buttons below to find my lists.
I'm having technical trouble with CreateSpace / KDP / Kobo / IngramSpark /another publishing site. Can you assist me?
For support with the online services related to self-publishing, please visit the site where you are encountering problems and use their Help page.
How can I advertise on The Creative Penn?
The Creative Penn podcast is fully sponsored and I don't accept other types of advertising on the site.
What are your recommendations for self-publishing services?
Beware of the sharks who offer self-publishing services. For a vetted list of this type of service check out the Alliance of Independent Authors Watchdog list here.
Will you be a guest on my podcast?
I am always happy to consider interviews about my books or writing, publishing, book marketing, or making a living writing. If your podcast has more than 30 episodes, please use the Contact form to send a message to me.
I'd like to be a guest on your podcast
The Creative Penn podcast is booked at least four months in advance and usually, I choose the interviewee from my personal contacts. However, I am interested in hearing from you if you have an unusual story or a bestselling book that would be useful to my audience. Please use the Contact form to send a message to me.
I'm a student and I'd like to interview you for a project
Unfortunately, I receive so many requests for this type of interview that I have to say no to them all.
I'd like to write an article for The Creative Penn
Thanks for your interest, but The Creative Penn is no longer accepting guest posts.
I'd like to quote you / one of your books / one of your Creative Penn articles on my blog and/or in my book. How do I do that?
Thank you for asking! You're welcome to quote under the terms of fair use. The books, services and other products that I sell from this site are Copyright material so you may not distribute those without specific permission. Please use the Contact form if you need more details.
I'm trying to find information on how to self-publish children's books
I recommend you listen to this podcast episode with Karen Inglis about writing and self-publishing for children.
I'm trying to find an illustrator for my children's book. Can you help me?
A wonderful place to start (and consider joining) is the Society of Children's Book Authors and Illustrators. This is a member-based creative organization and it holds a wealth of information on publishing such as industry tips, directories, artist portfolios, and contact information.
Another source is Childrensillustrators.com, which is primarily a portfolio directory site. It is a visual playground of creative talented sorted by medium, style and subject. I recommend this site if you are unfamiliar with the artistic style you want. Also, don't forget the power of a good Google search. Most professional illustrators have both a blog and website, which gives you a more intimate look at the creative person behind the art.
I have a question about a legal situation with my book(s). Can you offer me some advice?
I recommend you listen to this podcast episode with Helen Sedwick and also check out her book, The Self-Publisher's Legal Handbook.
Can I hire you to coach me?
Sorry, but right now I don't provide coaching or consulting. I recommend you check out Reedsy, who have vetted professionals who might be able to help.
How long should my book be?
It depends on your genre and the expectations of the audience, e.g. a romance novella could be 25,000 words whereas an epic fantasy novel can be 150,000 words. A fast-paced thriller could be 70,000 words. So research your genre and what the audience expect and calculate it for yourself. More on writing tips here.
Where should I send my press release, manuscript, link exchange, buying links or offers for my business?
Please don't send me any of these.
If you still have questions …
Please use the Contact form here.