Do you want to sell more books and reach more readers?
Do you want to discover how to build an author career for the long-term as well as spike your book sales right now?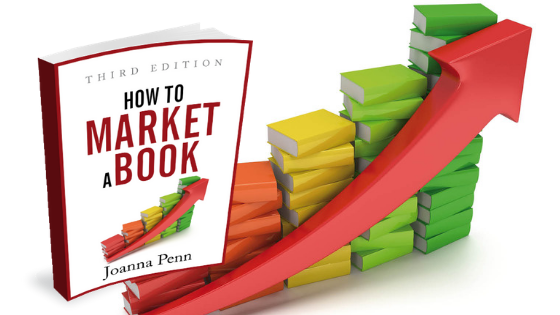 If you don't know much about marketing, don't worry. We all start with nothing.
I'm Joanna Penn and back in 2008, I had no book sales, no audience, no website, no social media, no podcast, no email list. No nothing.
Now I'm a New York Times and USA Today bestselling author of thrillers and non-fiction. My books have sold over 500,000 copies in 162 countries, and I'm an award-winning creative entrepreneur and international speaker, making a multi-six-figure income with my writing.
Learning how to market my books and my personal brand changed my life.
Yes, you need to write an awesome book, but you also need to know how to get it in front of the right readers.
How to Market a Book is for authors who want to sell more books, but it's also for those writers who want to think like an entrepreneur and build a long-term income. It's for traditionally published authors who want to take control of their future, and for self-published authors who want to jump-start a career.
Buy now in ebook, print or audiobook format!
---
---
There are short-term tactics for those who want to boost immediate sales, but the focus of the book is more about instilling values and marketing principles that will help your long-term career as a writer.
It's also about going beyond just the book, because these methods can take you from being an author into making money from other products, professional speaking, and creating opportunities that you can't even imagine yet.
In this completely updated Third Edition, you'll discover:
Part 1: Marketing Principles
The marketing mindset
Polarities of marketing
When to start marketing and how to balance your time
Part 2: Your Book Fundamentals
Prerequisites for success
Writing your blurb, or book sales description
How to choose the right categories and keywords
How to use Amazon Author Central
Sampling. Why your first few pages are so important for ebook readers
The pros and cons of exclusivity when self-publishing through Amazon
Pricing your book and the use of free
Box-sets and bundling
Writing a series
Part 3: No Platform Needed. Short-term Marketing
Why book reviews are so important
How to get customer reviews on your books
How to get reviews from book bloggers
Paid advertising: Email blasts
Paid advertising: Facebooks, Amazon, and other ad platforms
Case study: How to hit a bestseller list with ad stacking
Algorithm hacking, big data and production speed
Part 4: Your Author Platform. Long-term Marketing
What is an author platform and why bother?
Your author brand
Using pseudonyms as an author
Professional author photos
Integrity, authenticity, generosity, social karma
Your author website
How to build an email list
Content marketing
Should you have an author blog?
Mistakes that authors make with blogging
Guest blogging
Image marketing
How to sell books using social media
Social networking tips
Examples of how I use social media sites for each of my author brands
Should you create a podcast?
How to produce and market a podcast
Video marketing
Marketing audiobooks
Marketing print books
Merchandizing
Traditional media and PR
How to get media attention with a newsworthy story
Tips for TV and radio
Part 5: Marketing Strategy and Book Launches
Your book marketing strategy
Aspects of a book launch
Relaunching older books
Reviews
"There are a lot of book marketing 'experts' out there, most of whom have never actually done the things they're pretending to be experts about. Joanna Penn really has made her mark in indie publishing and How to Market a Book is worth reading for anyone looking to do the same." – Ryan Holiday, bestselling author of The Obstacle is the Way and Perennial Seller: The Art of Making and Marketing Work That Lasts
"Joanna is not just a go-to-expert for writers, she's a go-to-expert for the experts like myself. She's been working continuously as an author and entrepreneur for more than a decade, and has connections and conversations with people across the publishing industry that put her insights and advice into a class of their own." – Jane Friedman, Author, Publishing Consultant, Speaker. www.JaneFriedman.com
"I read the first edition of How To Market A Book shortly after it was published in 2014. Until then marketing was a dark, terrifying frontier. This book changed the way I approached marketing because it removed the fear of getting started. The 2017 edition is more of the same, but updated to match the new indie landscape. The chapter on Sampling is worth pressing that buy button all by itself, but there are plenty of other great nuggets too.
One of the most important is author branding, something Joanna Penn has mastered. How do we know that? If you're a fan of the podcast you will literally hear this book in Joanna's voice as you read it. Now that's branding." – Chris Fox, bestselling author of Write to Market and Six Figure Author
"There are thousands of books about how to sell books but this is one of the few written by someone who walks the talk. A bestselling author herself, who has shared every step of her publishing journey with empathy and generosity, Penn is an inspiration to multitudes of writers. Whether you're an indie, trade published or hybrid author, whether you are just starting out or have already sold widely, whether you love marketing or hate it, you will learn from this book." – Orna Ross, Author and Director, Alliance of Independent Authors
"Joanna Penn's wonderful podcast was a major influence on me when I was a struggling author, trying to work out how to get readers to discover my first self-published books. Her non-fiction, too, has been a life-saver, and this revised edition of How to Market a Book is filled with her hallmarks: a thorough approach, comprehensive scope and a delivery that is patient and easy to read in a way that is 100% "Joanna."
I commend it to new authors, but also to experienced veterans who would benefit from a review of their marketing to ensure that they are up to date with the most current thinking."- Mark Dawson, bestselling thriller author and creator of the Advertising for Authors course and the Self-Publishing Formula podcast
"Joanna Penn's How to Market a Book is a solid reference guide for beginners and experienced authors alike. The book provides straightforward, actionable advice you can use from day one. This book is a must-have in any author's library." ~Honoree Corder, author of The Prosperous Writer book series & You Must Write a Book
"Joanna Penn has an intuitive understanding of how marketing works and how that pertains to the unique challenge of reaching readers and selling books. Her advice is always practical, actionable, and – most importantly of all – effective." – David Gaughran, author of Let's Get Digital and Let's Get Visible
"Right now, self-publishing is a wide open opportunity for writers. But it's a confusing and increasingly competitive field. Joanna Penn is one of the guides I rely on to help me navigate the maze, make better marketing decisions, and sell more books. If you read this book, she'll do the same for you." – Mark McGuinness, Poet, Coach and author of Productivity for Creative People and Resilience: Facing Down Rejection and Criticism on the Road to Success