Podcast: Download (Duration: 50:02 — 40.9MB)
Subscribe: Google Podcasts | Spotify | TuneIn | RSS | More
We live in the most exciting time in history to be an author and creative entrepreneur. The opportunities are ever-expanding, but only if you embrace the changes rather than trying to cling to the old models.
I wrote after my Oregon trip about the stabilisation of the indie author business model in 2017, and the need to position for the next phase of growth. It's unclear whether that next phase of growth will happen in 2018 or later on, but here are some macro trends that might impact authors in the coming year, and some suggestions for what you might do to position yourself.
This article will cover:
Crunch time? Exclusivity vs. wide publishing, subscription programs and Amazon changes ahead
Disruption in the social media space
Rise of voice search, voice assistants and impact on audio
Content creation beyond the book
Expansion of Blockchain technologies and other cool technology
In the intro, I mention newsjacking and the power of controversy to sell books, how you can use dictation to write faster and be a healthier writer.
This podcast is sponsored by Kobo Writing Life, which helps authors self-publish and reach readers in global markets through the Kobo eco-system. You can also subscribe to the Kobo Writing Life podcast for interviews with successful indie authors.
(1) Crunch time? Exclusivity vs. wide publishing, subscription programs and Amazon changes ahead
As Orna Ross noted in her round-up of 2017 in publishing, the indie author business model has almost entirely diverged from traditional publishing, in that we can do pretty much everything ourselves now and many successful indie authors are just getting on with their writing and publishing lives, with no real thought to what trad pub is up to (and vice versa).
Perhaps the same kind of divergent shift is coming for those authors who remain within Amazon's eco-system with KDP Select, and those who choose to publish wide and even sell direct to readers.
From an author perspective, going into KDP Select – exclusive to Amazon for 90 days and then ongoing unless you uncheck the box – is the easiest option and (in my opinion), the best way to start an indie author career. You only have to worry about one platform, the biggest one, and you get added benefits of visibility and free marketing options, while you learn the ropes.
I still recommend starting out on KDP Select if you are a new author with under 3 books in a series and no real marketing platform or email list. I am in KDP Select for Penny Appleton, my sweet contemporary romance pen-name co-written with my Mum because it is a passive brand with no platform. I'm too busy with my other brands to do much more!
Of course, you can make the choice PER BOOK and change your choice every 90 days, but if you want to build up an audience on other platforms, it takes time and multiple books, especially if you write in a series. And once you go wide with a series, it's hard to pull back as you risk disappointing readers.
And what about all those readers who don't read on Amazon?
Those in countries not served by the US giant, or who have chosen to read on other platforms, or whose payment methods aren't accepted, or those who object to Amazon for ethical reasons, or those who want to support authors by giving them a bigger slice of royalties. Those readers will only be served if you publish wide.
You also have to think about your own career as an author.
I started seriously focusing on wide distribution and selling ebooks direct from my website in 2014 when GoodeReader reported that Hachette, one of the Big 5 publishers, derived 60% of its US income and 78% of its UK income from Amazon. They were negotiating contracts at the time, but what real choice did Hachette have when one company has that much power over your business?
Indie authors have had ample opportunity to publish wide, but now we have the tools to more easily sell direct because of BookFunnel's new integration, which I'm using for my books on TheCreativePenn.
Written Word Media's 2018 trend article notes the rise of 'direct to reader' sales and marketing, and this means we can make 90% of the royalty AND capture the email address of the reader. Plus, we can then use automated email sequences as described by Joseph Alexander in this interview on print publishing business models, in order to recommend more books, give discounts etc.
But is KDP Select a dangerous trend?
In his 2018 trends article, Mark Coker, CEO of Smashwords, questions whether independent authors are losing their independence because they have become entirely dependent on Amazon, locked into the ease of the Select eco-system even though royalties and conditions are changing.
This shift to exclusivity may become even more pronounced in 2018 because of a number of other factors.
(a) The rise and rise of subscription models for consumption
KDP Unlimited provides unlimited reading for dedicated bibliophiles. Kobo also launched Kobo Plus, a subscription program, in the Netherlands in 2017. I'm a Kindle Unlimited subscriber, although I also buy books in other forms. I'm an Audible subscriber, and on Amazon Prime for shipping and TV.
I'm also a Netflix subscriber. My husband subscribes to Google Play music. I subscribe to the FT and the Guardian in the UK for my news, as well as MoneyWeek magazine. Subscriptions are becoming an extensive part of our lives when it comes to entertainment and education – and Amazon is winning, given that there is no option for Nook or iBooks and Kobo Plus has just started in a small market.
The rumour mill has gone into overdrive this week as a change was released and then quickly removed on the KDP dashboard showing a new 50% royalty between the 35% and 70% options.
Speculation was rife that this might mean a move to 50% if you're not in Select, or perhaps an integration of delivery fees or a number of other things. A 50% royalty rate would certainly be a big factor in some people's decisions on whether to go exclusive.
There are other possible platform changes ahead as The New Publishing Standard questions whether AbeBooks, The Book Depository and Createspace will be rolled into the main Amazon store sites, and there's a new Amazon Author portal on the horizon too, according to The Digital Reader.
(b) Brick and mortar sales decline as online sales grow
There have a been a lot of reports over the holiday period of how high street shops and malls are relatively deserted and that online shopping has been even bigger over the holiday period. Companies that pivot to delivering a great online experience in addition to physical stores are doing fine, but those who focus only on physical stores are struggling.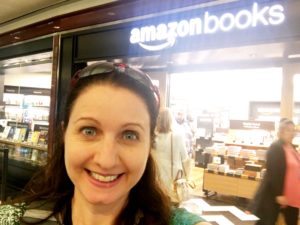 For authors and publishers, this may mean Barnes & Noble in the US, and Waterstones in the UK will have further challenges in 2018. Independent bookstores will (hopefully) pick up local business as they can offer more tailored experiences and have lower overheads.
Publishing industry commentator Mike Shatzkin discussed what might happen if B&N went bankrupt on Nathan Bransford's blog. "Without Barnes & Noble, the business models of most of the publishers we know are severely challenged."
Losing the physical inventory supply chain would mean self-publishing would look a lot more attractive for authors willing to do their own marketing. But B&N's market share of the business is already declining and being replaced by Amazon and independent bookstores, so it won't bankrupt publishers.
Kris Rusch discussed the impact of digital sales on brick and mortar stores at the Coast Business Masterclass, noting that brick and mortar stores were thriving IF they had an online presence and didn't rely only on foot traffic – which is how Kris and Dean run their own physical stores in Oregon, utilising online markets for off-season revenue. She says that it makes sense that Amazon is buying brick and mortar businesses, as people still want to browse in stores but then they are increasingly going online to buy.
So Amazon bookstores, like the Apple stores, become a browsing destination that leads to increased online sales, as well as a marketing channel and a funnel into the Prime subscription model. I went to an Amazon bookstore in New York and it was all about driving people into Prime and relating the in-store experience with the online potential. The same changes are happening at Whole Foods, which Amazon acquired in 2017.
The rumour mill has a few interesting things in this regard:
How can you prepare?
(a) Take some time to think long-term about what you want to do with KDP Select, and how you will consider the distribution of your books.
If you choose to go all in, then make sure you put aside some of your income as a cushion for changing conditions. Because it WILL change. Also, consider what you want the book retail landscape to look like in 10 years time because you are part of the eco-system as an author, publisher, and book buyer.
If you choose to go wide and/or go direct, then how can you maximise that revenue to create multiple streams of income.
For example, an author can now have something like a subscription model by using Patreon for recurring revenue or can build up direct sales relationships using BookFunnel.
Of course, these sales don't result in rankings, or bestseller lists, or trackable publishing statistics, but you can make a living that way. Vanity measurements or income, you choose!
(b) However you choose to do your ebooks and audiobooks, you can still prepare for more print sales as they have no exclusivity clauses (yet).
As Dean Wesley Smith said at the Oregon business masterclass, "All those readers will be looking for their print editions online if they don't have a store to go into," so make sure you are positioned for further growth in online print sales in 2018.
Are your books available in print?
Have you considered other print products your readers might like e.g. Large Print, workbooks, hardbacks, or mass market paperback editions, all of which can be done with POD now.
(2) Disruption in the social media space
I read a lot of financial news and one consistent story over the last few months has been a shift in the mood towards Facebook and social media in general. Firstly in terms of paying tax and regulation of content, including the impact of targeted ads on the US presidential campaign and Brexit, as well as policing inappropriate content.
But also, there are reports of fatigue associated with social media overload, too much information, and comparisonitis that can stem from all those Instagram-ready-bodies, or curated life pics on Facebook.
Previous Facebook employees have spoken out about "creating tools that rip apart the social fabric of how society works," and Mark Zuckerberg has even made 'fixing Facebook' his goal for 2018. His Facebook post states that his aim is "protecting our community from abuse and hate, defending against interference by nation states, [and] making sure that time spent on Facebook is time well spent." That last bit is why I took Facebook off my phone in November and it hasn't gone back on!
These issues mean there is likely to be a rise in regulation, more oversight and more control over content, which means it will be harder to market and paid ads will become more expensive.
Social Media Examiner predictions for 2018 include the probability of continued rising cost of direct ads, and recommend using YouTube for lead generation, as well as video on other platforms using authentic human interaction and collaborative storytelling that focuses on the customer experience first.
Written Word Media's trend article also notes that marketing will become more expensive in 2018. But that is about paid ads, not content marketing, which is how I have built TheCreativePenn and my audience over the last 10 years. It is still free to blog, podcast, YouTube and use social media to attract your readers, so don't despair. There are many ways to find readers that won't break the bank.
How can you prepare for any shift in social media usage and ad spend?
Don't throw the baby out with the bath water. Social media still has its place, as do paid ads. I'm certainly intending to carry on using them as part of my campaigns, but alongside my sustained focus on content marketing as a primary channel.
Regardless of what happens with tech, the human need for connection doesn't change.
If you can connect with your readers through your social media ads as well as organic sharing, then you will continue to be able to use social media to sell books. But remember, it's a funnel, so start with getting people interested in you, then develop a relationship before you try to sell them anything!
(3) Rise of voice search, voice assistants and impact on audio
Amazon has now sold tens of millions of Alexa-enabled devices globally, and Digital Trends reported that the Echo has been the biggest hit over Christmas 2017. Wired reports on a new division at Amazon called Alexa Voice, which aims to build hardware and software that makes it easy to add Alexa into anything – vehicles, home appliances, smart clothing, and wearables.
CES, the biggest consumer electronics show in the world, reported on the dominance of Alexa in the gadgets displayed this year.
Alexa may also be the next frontier for advertising, as reported by DigitalTrends, which suggests potential product placement within searches.
This is restricted right now, but fast forward and consider what it means if people ask Alexa to recommend a book on how to potty train a child, or how to cook sous-vide, or the best thriller featuring a female secret agent, ancient artifacts, and a religious conspiracy 🙂
I also see this integrating with the shopping experience. At the moment, I get email reminders to re-order things like contact lenses, and regular grocery shopping items. Perhaps the voice assistant will remind me over time, based on my previous buying behaviour.
TheNextWeb has reported on Google's possible changes to the search algorithm in 2018, including how the rise of voice search may shift the algorithms towards how people speak and ask questions rather than how they type the same thing. Featured snippets will also become more important if you want to be found – definitely an important shift for those non-fiction authors (like me!) who get a lot of traffic from Google search queries.
I'll be looking at the range of WordPress plug-ins for this kind of functionality, and I'm also moving into doing short YouTube videos based on specific questions on the Writing Craft and Business. Check out my channel at: www.YouTube.com/thecreativepenn
As writers fascinated with language, this is interesting, because as those of us who have tried dictation have found, it is a very different experience to speak than it is to write. We have a Google Home and an Amazon Echo (Alexa) and I'm intending to try and use them more in 2018 in an attempt to understand how these technologies could impact us.
The Next Web's article also suggests that the main algorithm will shift to mobile first in 2018, as 60% of Google searches are now mobile. If your website is not mobile-optimised, then you need to sort that out pronto! [ Check out my author website tutorial here.]
This preference for voice may have an interesting impact on chatbots according to Wired magazine, which says that since Facebook is killing their own chatbot assistant, M, that chatbots are already dead, because people are moving to voice interaction over text. It may still be viable to use a simple, rule-based chatbot, as some authors are doing for Facebook interactions, but for anything more developed, it looks like voice interaction is the focus.
(4) Content creation beyond the book
We are living in a golden age of television right now, and long-form series shaped the entertainment conversation in 2017 – The Handmaid's Tale, Game of Thrones, Big Little Lies, Stranger Things, The Crown, to name just a few. [Note: All but Stranger Things are adaptations from books.]
"Books are no longer leading the cultural conversation," as author and TV producer Jeff Norton states on TheBookseller. People are talking about what they are watching, rather than what books they might have read. He explains that the streaming services "have a direct and meaningful relationship with consumers and are great with data."
His recommendation to publishers is to publish less, improve metadata, and develop direct relationships with readers – suggestions that can be relevant to indie authors as well.
Reading isn't going away, but reflect on your own entertainment choices and you may see a shift, as I did in 2017. I still read a lot, but my shared experience and evening relaxation with Jonathan is around the big screen, which is why I'm adapting Map of Shadows at the moment.
There will continue to be more and more need for content – but in the form of visual entertainment like Netflix, whatever the new Disney offering is & Hulu, Amazon Prime, YouTube and more – as well as audio content.
Goodereader reports on the continued growth of audiobooks, and that they are a younger demographic with 48% of all listeners under 35, who have listened to an average of 15 books this year and report that "it makes it easier to finish a book."
There's a rise in straight-to-audio rights and publishers are increasingly looking to popular podcasts for a platform to launch books, reflecting what happened with bloggers way back in 2010-2012.
Of course, Audible is the dominant player in the audio space, reputedly offering some big-name authors six-figure audio only deals – and of course, is based on a subscription model with a lower royalty rate for non-exclusivity. Sound familiar?
Looking further ahead, there are discussions beginning around onboard-entertainment for people in self-driving cars. Apple has described their driverless car venture as "the mother of all AI projects," so we should keep an eye on whether they develop relationships with other content providers or start their own.
Plus the augmented reality of Magic Leap and heads-up-display might be on the horizon this time next year. I'm certainly considering how I can take my intellectual property into different forms and work with bigger collaborative projects as I consider the next 10 years of my creative work. It's time to play a bigger game.
(5) Expansion of Blockchain technologies and other cool technology
I know it can be confusing but remember, Bitcoin and digital currency are not the Blockchain. In the same way that PayPal is not the Internet.
The craziness in the digital currency space feels like 1999 to me, when all the businesses added dotcom to their names and valuations went nuts. After the bust, there was a shake out, but the biggest companies today (Amazon, Google, Facebook) came out of that. So perhaps there will be a shakeout in 2018 and we'll see the beginnings of the next big movers in this space.
Kodak have just launched a Blockchain initiative for a secure method of digital rights management and rights licensing from the platform, using AI for search image recognition, that will result in photographers being reimbursed in micropayment for usage. This is the model we need to see with authors and intellectual property rights. Kodak's stock leaped at the news, and whichever company that does this for written copyright should see a similar benefit. Smart contracts are another application for creatives as it will mean intellectual property rights can be licensed globally without the need for middlemen.
The Alliance of Independent Authors are launching a white paper on Blockchain for Books at London Book Fair in April 2018, but one of the possible applications will be micro-payments that go beyond KDP Select, and this is critical because 'access over ownership' is a macro-trend – think Netflix, Uber, streaming music, and of course, Kindle Unlimited – so we need a non-exclusive way for readers to access books and authors to get paid for pages read.
Truly creative AI is just around the corner, reports DigitalTrends, and as I've been saying for a while on this show, I intend to
use it, just as I use other tools like dictation, Scrivener, internet research on YouTube and more to help my writing life. For those doubters, the article goes into the cute Harry Potter story from Botnik Studios, and a neural network writing the next Game of Thrones novel, to Google's Deep Dream project and Chef Watson, which is inventing new recipes. The Washington Post robo-journalist wrote over 1000 articles in 2017 – did the readers even notice?
The New Publishing Standard reports on the Washington Post's use of AI going even further with Polly, which aims to speak like a human, using advanced deep learning technologies and includes 47 voices across 24 different languages. And of course, Polly, is owned by Amazon and the Washington Post is owned by Jeff Bezos. This makes me think that audiobooks read by one of Polly's voices is not far off, as I believe translation will be done primarily by AI in the reasonably near future.
If that concerns you with the whole 'robots will take our jobs' approach, then consider that people once thought the same about computers, or cars – and these tools have replaced many jobs, but they have also created whole new industries. Research firm, Gartner, has said that by 2020, AI will generate 2.3million jobs, exceeding the 1.8million that it will remove. Of course, this will vary by industry, so we need to position ourselves and be ready to make the shift.
Conclusion
Yes, the indie author business model has stabilised, but the pace of change continues and what is true today will not be true in a year's time. As ever, I'm excited and I hope to continue sharing that excitement with you so that together we can be ready for the opportunities of the future!
My recommended response to this article is:
Keep writing and creating more intellectual property assets. It all comes back to being creators and hey, that's the fun part, right?!
Maximize your paper products with print on demand to take advantage of the continued shift to online purchasing.
Make sure your website is mobile optimized. See my resources at: www.TheCreativePenn.com/authorwebsite
Retain as many rights as possible so that you can take advantage of new opportunities that we don't even see yet. For example, if you do work with a publisher, don't license World English rights in all formats with no limited term. Read Kris Rusch's book, Closing the Deal on Your Terms: Agents, Contracts and Other Considerations, for more on that.
Look at diversifying beyond the book to create multiple streams of income. I'm getting into adapting my fiction into screenplays, and for non-fiction, I'll be doing more courses and audiobooks.
Finally, look at investing for the long-term. Even though I publish wide for the majority of my book sales, I also own shares in Amazon, because clearly, they are dominating so many of the changes ahead. I actually didn't realise how much until I did the research for this article. I also invest in index funds, as per Unshakeable and How to Own the World, investment books I recommend if you want to consider these aspects – but of course, this is not financial advice and I am not a financial advisor etc etc. We can't see the future, but we can prepare for it.
Right, let's get into another exciting year! Please do leave any comments, ideas or other trends below.