Getting a BookBub featured deal can propel you into the top of the charts and be the basis of a campaign to hit bestseller lists.
But what if you had your own BookBub, an email list of targeted readers who signed up on your site and were waiting to buy your next book?
It is possible.
This is an excerpt from How to Market a Book Third Edition, available now in ebook, print and audiobook formats.
Why build an email list?
Seth Godin, author of many marketing books, describes permission marketing as "the privilege (not the right) of delivering anticipated, personal and relevant messages to people who actually want to get them."
If you have your own email list of people who have given permission, you have a way to contact readers and fans when you have a new book out, and that gives you more control over sales. You can also build a sub-set of that list, people who read your book before launch and are ready with reviews when it goes on sale. Some authors even source beta readers from their email audience.
You can also build up a relationship with readers over time, so they get to know who you are. Remember the principles of know, like and trust? Well, email is a great way to communicate and is much more direct, targeted and relational than social media. I consider email to be a huge part of my direct 1:1 marketing efforts and spend a good part of every day answering email from readers and my community.
The power of your own email list is also about true independence, the ability to sell your books even if all the book sales websites disappeared. If you're traditionally published, it's the ability to walk away from a publisher without fear, because you know you have an audience you can reach yourself.
If you're on your first book, you may see building an email list as an insurmountable challenge. But if you start a list with book one, then you will have at least a handful of people to tell about book two. We all start with zero, and your list will grow over time as readers find you or if you actively promote it. The best time to start building an email list is right now, wherever you are on the author journey.
Here are some tips on how you can use email marketing with integrity.
Don't add people to your list manually
People should actively opt in by signing up themselves in exchange for something specific. You can activate double-opt-in on your list, which means people sign up and then click a Confirm link by email before they get emails. This is an anti-spam mechanism that helps to ensure permission.
Don't buy lists, either, because those people have not specifically asked for information from you. I get spam emails every day from people who have signed me up to lists with an email I never use for that type of thing. I delete and block them immediately.
Respect your list
Keep their details private. Don't sell or share your list with anyone else. Include a privacy policy on your website that explains how you will interact with them. There are lots of templates online that you can modify for your site. Be a valuable resource to your subscribers by providing information, inspiration or entertainment. You do not ever want to be seen as a spammer, so give away great information, offer quality on a regular basis for free, and people will be happy to buy from you when you have something they are interested in.
You have permission to email but only with information relating to what they signed up for
So if you sign up for my Author Blueprint at TheCreativePenn.com/blueprint, I will only email about writing, publishing, book marketing and creative entrepreneurship. I won't start emailing about weight loss products. My emails to my fiction audience are completely different again.
Make it easy for people to unsubscribe
At the bottom of all good email services that comply with anti-spam laws is a way to unsubscribe automatically. You want people to unsubscribe if they are unhappy with what they are getting from you. Remember that your books are not for everyone! As your list grows, you'll also pay more for the service, so you only want people on the list who want to be there.
What will you offer in exchange for an email address?
Many authors have a sign-up for a newsletter on their website, but as a reader, do you want another newsletter? Do you need another email cluttering up your inbox? Think about what is useful, entertaining or inspirational for your target market. What would they really want?
For fiction authors just starting out, try using a short story or a novella based around one of your characters. If you have more books out, you can use a full-length book or even a bundle of books, for example, the first in each of your series. I give away an action adventure thriller novella at www.JFPenn.com/free
For non-fiction, you could give away a PDF of useful tips, excerpted chapters or one of your books. You could also give away free video training or audios. If you sign up for the Author Blueprint, you receive a free ebook as well as a number of video and email tutorials.
Of course, you can build up your offer over time. I started out with 'sign up for my newsletter' on my fiction site and a one-page PDF of tips for my non-fiction. But over the years, I have increased my offer. So just get started where you are, and you can change it up over time.
Note: You can't give away any books that are in KDP Select because they have to be exclusive to Amazon.
I use and highly recommend BookFunnel.com for delivering free books as part of the email list sign-up process. You can also use it for sending ARCs to your early readers, and they can watermark the ebooks in case you're concerned about piracy. They allow books to be delivered to any digital device and handle customer service for those technically challenged readers.
How to set up your list
The first step is to sign up for a list management service, because you can't just email people from your personal account. There are lots of options and authors often try several. I recommend ConvertKit for those starting out, because it's easy to use and there is a lot of help information. I use it for my sweet romance pen-name. You can check it out at www.TheCreativePenn.com/convert
Other recommended services include Mailchimp, Aweber, MailerLite, and Active Campaign, and there are more emerging all the time. Compare the various services to see what would suit you best.
Then set up a sign-up form using one of the templates from the email service. Once you've picked one and customized it, they will give you a little piece of code to copy and paste into your website. It will appear as a signup form that the readers can now use to enter their email and start the process of receiving messages from you. You can put it at the top of the page, on the sidebar, on its own special page, in a pop-up, or all of these at once. It's up to you.
You also need to set up a series of emails for subscribers, known as autoresponders because they go out automatically when someone signs up.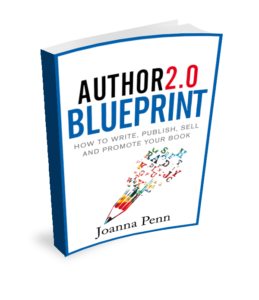 This might be as simple as one they receive straight away with your free offer, or you might have a whole sequence that guides them through a process. My Author 2.0 Blueprint autoresponder has a series of weekly emails describing how to write, publish and market books as well as make a living writing. These are useful for the reader but also enable them to get to know, like and trust me so they might be interested in buying a book or course at some point.
Each email list provider also provides a Broadcast mechanism to send newsletters or notification of sales, events or book launches. They have templates you can use so you can just drag and drop images in – no need for a complicated set-up anymore!
It's a good idea to test the sign-up form and emails by signing up with a test account and sending yourself a newsletter just to make sure that everything is OK. Then you're ready to go!
Add the list sign-up to the back of your books by listing the free giveaway and the URL
When someone has just finished and loved your book, that's when you're in the most powerful position to ask them to join your list. If you are traditionally published, it's worth asking your publisher if you can include a link to your email list at the back of the book. Pitch it as being useful for connecting with readers and making marketing easier for the next book.
You can use a clickable link in ebooks, but use an easy to type URL in print books. It's also a good idea to have a URL that's easy to say out loud, as you can then mention it on podcasts, interviews and when speaking. Take any chance you can to give people an option to sign up!
Here's what I include at the end of my ARKANE novels:
Thanks for joining Morgan, Jake and the ARKANE team!
Enjoyed End of Days? Here's what you can do next.
If you loved the book and have a moment to spare, I would really appreciate a short review. Your help in spreading the word is gratefully received.

The next ARKANE adventure will be available in the coming months. Get your free thriller plus notification of the next book as well as giveaways and pre-release specials at: www.JFPenn.com/free
Remember, it will be a trickle at first, and your list will grow over time, just like everything else in the author business.
What do you include in your Broadcast emails?
Once you start building a list of email subscribers, you need to keep talking to them. Some authors get stressed over what they are meant to send, but this will differ depending on what you promised at sign-up and also what you are doing with your author business as a whole.
Non-fiction authors tend to use email marketing more regularly, because it is a major source of income through affiliate commission, consulting, or product sales, rather than just books. Most fiction authors have more sporadic updates that include some interesting research and life tidbits as well as upcoming releases.
You could include news and articles about your industry or niche; your own articles, audio or video which might include personal items like photos from your research trips; details about your new book or product releases; book reviews related to your niche; or competitions, giveaways and anything else relevant to your audience.
You want people to open your email, so make it interesting and include a headline that will make them want to read on. You need to send emails regularly enough so it is not a surprise when you do send one. Don't just email when you have something to sell. Build a relationship over time. Fans want to know what you're up to, and they will be interested in what you have to share with them.
But there are no rules!
The bare minimum is to simply have a list of people to notify when your next book comes out and then you can improve your communication over time. Remember, every name on that list is a person, so think about connecting with them on a personal level.
Build a Street Team
Some of the people on your email list will be super-fans who read all your books and love everything you do. They will be a small sub-set but they are the ones you want to engage with more regularly, so it's worth setting up what's known as a Street Team. This is a group within your main email list who get your Advanced Review Copies (ARCs) before official release and help you by reviewing the book or spreading the word on blogs or social media.
You can build this smaller sub-set by emailing the main list and asking them to apply. I do this before each launch, adding a few people every time to my PennFriends, and other authors include an email in their autoresponder series.
Use your email list in paid advertising
Your email list can be incredibly useful for paid advertising. You can load a list of emails into Facebook, and they will create an Audience who you can then advertise directly to. When I email my list about a new book, I will also do an ad to the list audience at the same time. Readers often need exposure multiple times before they buy.
You can also create a LookaLike audience, where Facebook will go and find other similar people who you can advertise to, attracting more people to your list over time. Your ads will likely be cheaper if you use your list and a LookaLike, so it's well worth incorporating this step into your marketing strategy.
Have email lists stopped working?
There has been a backlash against list-building in some parts of the author community, complaints that lists are not performing and that the expense of maintenance is not covered by sales at launch. If you're struggling with your email list, here are a few things to think about:
Are you offering value to your readers? Are your emails interesting or entertaining? Are they worth opening? Do you provide more than just 'buy my book'?
Are you only building your list through sites like Instafreebie or mass giveaways? Are you segmenting these free readers so you can see how they are different to people who find you through your books? Are you cleaning your list to remove those who only want free books and don't contribute with reviews?
Are you keeping your list warm by communicating with them regularly?
Are you building a Street Team, a subset of super fans who help with the launch?
Like any of the marketing methods, building and maintaining an email list takes time and effort, but it can be one of the most powerful aspects of a long-term author business.
This is an excerpt from How to Market a Book Third Edition, available now in ebook, print and audiobook formats.