It's my favorite time of year! Time for goal-setting 🙂
Here are my creative and business goals for 2017. If you're a goal-setting junkie like me (or if you just want some accountability!), please do share yours in the comments below.
I've now split them into the various brands that make up my business as a whole. Hopefully that will also help you see which might apply to your situation!
These are not in order of importance, just numbered for ease of reference at the end of the year.
(1) TheCreativePenn.com and non-fiction as Joanna Penn
Continue to serve the author community, focusing primarily on empowerment of creatives. There will be more articles, podcasts, videos and social media updates on writing, publishing, book marketing and creative entrepreneurship, and I will continue to share my own journey along the way.
I'm also intending to revamp and redesign this site as it has several thousand posts and pages now. As more and more creatives emerge and begin to write, I want this to continue to be one of the most useful (and honest and transparent) places on the internet for writers who want to take control of their author career. This is a pretty big piece of work, so it will take a while 🙂
For non-fiction in 2017, I want to put out the 3rd edition of How to Market a Book, plus audiobook editions of The Successful Author Mindset and How to Make a Living with your Writing on Audible (but non-exclusive because there are likely to be new audio options in 2017). I'll be working with a professional narrator for my non-fiction. After a debilitating cough at the end of 2016, I've made the decision to focus more on my strengths and leave narration to the professionals, rather than trying to do everything myself. I'm working on a new book in the mindset/psychology of writing arena, to be announced once it is more fully-formed (Q2). Plus, I will be collaborating with an author friend for a book/course on creativity (Q3/4).
Do a limited number of speaking events. I love speaking but it is very tiring for me and this will be a big creation year, so I need to focus. Having said that, I'll be speaking in Australia and New Zealand in February,  London in May and November, Scotland in September, as well as the US in October. All the links will be posted on my speaking page here as they are announced.
(2) Build my new small independent press and publish some gorgeous print products
I'll be writing more about the journey from indie author to small press in the coming months. Yes, this is another brand (name to be revealed soon), but an important part of the growing business 🙂
Launch new website for the small press aimed at book-buyers and rights buyers worldwide. Become involved with the world of independent publishers & small press.
Move to Ingram Spark for extended distribution of my back list print books (while still using Createspace for Amazon Print-On-Demand sales). I've already done a lot of work with this over the holiday period but this will be my first full year attempting to get to grips with the physical distribution side of things in a more sustained manner.
Some of my (many) journals

Publish the first 3 books in a sweet romance series under a new author brand. I'm the Commissioning Editor and Publisher of these books, but not the writer, although I am playing a big part in the development process based on everything I've learned over the years. (Just to be clear: The press is NOT open to submissions right now. This is a very special case!)
Get to grips with intellectual property and license some subsidiary rights. Indie authors have pretty much got the basics under control now. We know how to do ebooks, print-on-demand and to some extent, audiobooks. What we are not doing well is going beyond the basics to full exploitation of intellectual property rights. I'm going much deeper on this in 2017 and will share along the way, as ever. My husband, Jonathan, is taking the lead on this and I hope to welcome him onto the blog at some point this year (if I can persuade him to emerge from behind the internet curtain!) I will be doing more blog posts on this – click here for articles on Intellectual Property Rights.
(3) My shadow side: Fiction as J.F.Penn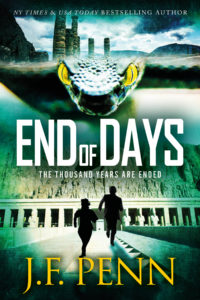 I'm super excited about my plans for J.F.Penn in 2017:
End of Days, ARKANE #9 releases Jan 31, 2017. Ebook, print and audiobook.
ARKANE boxset books 7-9 in ebook and audiobook, plus the other ARKANE boxsets in audiobook format
Collaborative dark fantasy novel – to be announced in quarter 1
First novel in spin-off thriller series based in New Orleans, where I'll be visiting in March
Develop new trilogy/series based on a whole new world. I have a ton of ideas on this but I'm not ready to share them yet. As a clue, check out my Pinterest Board on Maps 🙂
I'm currently working with a screenwriter on a treatment and a pilot for the London Psychic books, so the goal will be to sell that to a TV studio.
Launch new genre specific website, SupernaturalThrillers.com. For years I've been moaning that my fiction falls between the gaps of thriller/action adventure/horror/dark fantasy/crime etc. So now I've decided to leverage this gap instead and build a destination website for READERS of the types of books I read and love … and yes, it will also feature my books. It's hard to do this from an author site as it feels far more like self-promotion, so I'll be launching this new site in Q1. Exciting!
Mental and physical health
I've been sick too much in 2016 and that has been a combination of working too hard and then traveling, without planning enough downtime between trips and speaking engagements. I love what I do so much that I tend to work wayyyyy too hard.
I want more head space to create in 2017 and I need more downtime to recuperate. I also want to read more. So I am scheduling more time 'off' in 2017, more space in my schedule and also a more structured physical exercise schedule. There are too many stories of author burnout, and I don't intend to be one of them 🙂
Income goal
I don't believe in the poor author in the garret myth 🙂 Never have done.
In fact, more than ever, I believe it is the best time in history to be an empowered creative with a global focus. This year I will be expanding the various business streams and once again, I'm aiming to double my income. Of course, money is just one measure of success but I want to continue to prove that this path is a viable life choice and I've always been ambitious.
In order to do this, I will focus on the same aspects that have worked in the last year:
Creating more products and exploiting intellectual property rights – books in various formats, foreign rights sales and other rights exploitation, plus expanding distribution to more retailers and countries
Building my email list for both The Creative Penn and J.F.Penn as the size of the audience directly impacts my income through the various books, products and services I offer
Using paid advertising to drive traffic to both products and email list signup. This has made a difference in 2016, so I will continue to use it in 2017.
PLUS/ I'll be doubling down on content marketing, with more guest posts on The Creative Penn, plus the new genre site for fiction. I'll also be using a more advanced SEO strategy to attract people to specific content, and implementing an exit-pop-up to capture more emails and also to direct people to affiliate products.
Clearly, I have a massive year ahead – but please remember, I do this full-time as my living, my income, my passion, my job and my hobby. I love, love, love everything that I do 🙂
You will likely have a whole load of other goals for 2017 and I would love to hear about them below in the comments. You can also use this as a form of accountability and we can look back together at the end of 2017. Your goal may be to finish the first draft of your first book, as it was for me back in 2006/2007, or perhaps selling your first 1000 books. It doesn't matter what level you're at, as we are all traveling our own paths.
Save
Save
Save
Save
Save
Save
Save
Save
Save
Save
Save
Save