I teach a lot of authors about book marketing and many start the workshops with dread, knowing they have to learn this stuff, but not really wanting to do it.
My aim is always to change their mindset to one of happily incorporating marketing into their daily lifestyle, and generally, by the end of the day, most authors are much happier! In today's article, Bryan Cohen talks about his own marketing change of heart.
If you had fun marketing would you be looking for advice on a book marketing blog?
Probably not. I imagine most people search these blog posts for a magic bullet. A marketing solution that takes less time and energy. A tactic that leads to increased sales and more time for writing.
I'm not sure this post fits the bill, but I will tell you what I've done to make space in my life for publicizing my books.
Stranger Sales
The summer after I graduated from college, my favorite acting professor invited me to New York City to run the marketing for her show that was part of the New York Fringe Festival. I'd had some success promoting student plays, once packing a 250-seat house to the brim by promoting an unknown but lewd play as an age 18 and up affair. My professor hoped I'd fill the seats in New York, but despite my best efforts, I failed to get the word out.
I understood what worked for marketing on a college campus to my friends and peers. Using flyers, Facebook events and cheap/free tickets, I was able to pack the house. The same tricks didn't work in the Big Apple, especially given the 50+ other shows going on at the same time. I'd failed to learn an important marketing truth:
What works for your friends and peers won't always work for strangers. And without strangers on board, your sales will be severely limited.
From Chore to Reward
The first few years of my writing career, I struggled mightily with my marketing. If it weren't for my skills in search engine optimization, my first few books wouldn't have sold at all. When more and more authors entered the fray of self-publishing, I knew I'd need to do more marketing to make my work stand out. The only issue was that whenever I even thought about marketing my brain seemed to shut off.
When I feel passionate about something, I will draw from the deepest possible reserves to complete it.
When my younger brother beat my race time for a 10-miler, I trained for four straight months to take the running record back. When I had the chance to enter an online course creation contest to win an iPad for my wife, I worked 16-hour days for three straight weeks to create/finish the course and win the prize. Clear goals excite me. Marketing has always felt like a never-ending process with no definitive chance of victory.
To make marketing a daily task, I would have to make it something to look forward to.
I work on marketing about five to 10 hours a week on average. Most of that time is spent on tedious tasks like changing out book blurbs, posting to free book websites and formatting. I would never do these mindless, time-consuming projects if it wasn't for the power of the podcast.
I'm passionate about self-publishing podcasts. I will only let myself listen to them while I work on tedious marketing tasks.
As a result, I've become much more passionate about my marketing time than ever before. I'll load up The Creative Penn, the Self Publishing Podcast or the Rocking Self Publishing Podcast and get to work for 45 minutes to an hour at a time.
In the last few months alone, I've made a huge amount of progress on my tedious marketing tasks using this method. And when a task is too time-consuming, I save up my money to outsource the project through a website like ODesk.
Loving the Pitch
But marketing isn't all about tedium.
The most successful people are willing to do what other people don't want to do.
To make your book stand out among the hardest working authors in the biz, you need to use your brain to try new and unusual marketing methods. To make this happen for my own books, I went back to my theatrical roots.
I loved producing theatre because I was able to bring a group of people together for one incredible run of shows. Directors, actors, stage crew and the other folks involved become like a family for a month or two. There is little more I love than making that happen as a producer. It's like being the play's patriarch.
After some inspiration from horror author Timothy W. Long, I created a Facebook author event for books about writing. As part of the event, 16 authors discounted their books and participated in a live Q&A session. The authors told their fans about the event, which allowed their readers to find out about new authors at a significant discount. The event was a lot of hard work to organize, but the results spoke for themselves.
Over 600 readers attended March to a Bestseller and my website received more than 2,000 unique visitors the day the event went live. At one point, the books involved in the promotion took over every slot of the Amazon Reference-Writing Skills category's top 10.
My peers thoroughly enjoyed being a part of the event, and I made some lifelong connections. As I scanned through hundreds of Facebook notifications, I felt invigorated. Planning, moderating and contributing to the event helped me to apply my love for producing to my writing life. I finally figured out the best way for me to bring strangers to my work while loving every minute of it.
The best kind of marketing isn't about teaching yourself to do something you hate. It's about converting things you love to do into marketing. It's more than liking what you're selling. It's liking how you're selling.
If you can figure out how to do that, marketing your book may become something you look forward to. How strange.
What are your feelings about marketing? How have you learned to incorporate it into your daily author life? Please leave a comment below.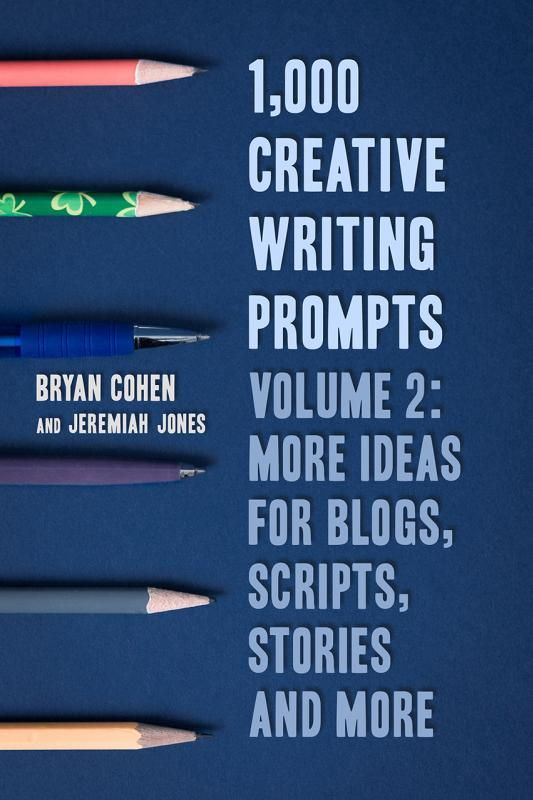 Bryan Cohen lives in Chicago with his wife and their Netflix account. He has written over 30 books, most of them filled with writer's block-busting creative writing prompts. His latest book is 1,000 Creative Writing Prompts, Volume 2.
Check out some of his writing prompts on the site Build Creative Writing Ideas. Keep up with his latest books and blog posts by subscribing to his mailing list.